Catskill Craftsmen makes a butcher block island on wheels that doubles as a storage area and work surface. The fact that you can conveniently roll this unit to wherever you need it makes this kitchen island even better…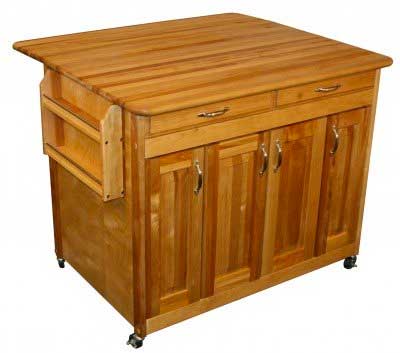 Get a Good-Sized Tabletop that Folds for Compact Storage
The large tabletop provides a significant amount of workspace. However, the flip down drop leaf enables these cabinets to roll against a wall for compact storage.
Get extra work space when you need it – without over-crowding your kitchen.
Gain Extra Storage & Easily Clear Clutter
Speaking of storage, the well-designed cabinetry makes this rolling island even more functional.
You gain additional drawer and cupboard space, plus you can clear clutter from countertops and keep them neatly organized out of sight.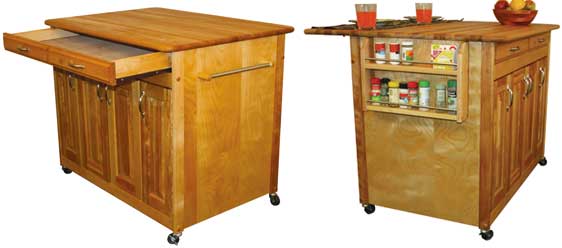 The combination of the spacious wide top drawer with the deep and wide lower cabinets gives you lots of versatility. For instance, you can store pots, pans, utensils, small appliances and other dishware. Just the cabinet space alone provides almost 8 cubic feet of storage.
Plus, the shallow upper drawer makes it really easy to find smaller items. Simply add drawer organizers if you need them.
Note: The sides of this island aren't just wasted space – they provide even more storage options.

One side features a handy spice rack while the other has towel bar. Which, by the way, works really well for hanging cooking utensils too.
Get Lots of Use Out of this Butcher Block Island
Of course, the locking caster wheels enable you easily move your butcher block island. For example, take it outdoors by the BBQ or to the dining area as an extra serving table.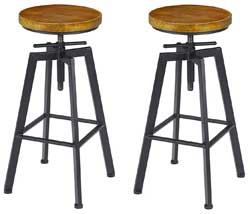 Plus, you can use it in the living room to eat dinner while you watch TV. Once at the desired location, just lock the wheels into place. You can get a set of 2 retro industrial style adjustable height swivel stools for a little over $100.
On the other hand, you leave this island in the kitchen. Here, you can use it for food prep, a breakfast bar or as a coffee table. Even the kids can homework on it while you prepare dinner.
Specs for Catskill Craftsmen Butcher Block Island on Wheels:
Island Dimensions: 44.5″ Wide x 38″ Deep x 34.5″ High
Tabletop Dimensions: 42″ Wide x 38″ Deep
With Drop Leaf Down: 42″ Wide x 28″ Deep
Butcher Block Thickness: 7/8″
Weight: 168 lbs
Material: Solid Hardwood, Primarily Northern Yellow Birch
Side/Back Panels: Warp Resistant Hardwood Veneer
Finish: Oiled Wood Finish
Hardware: Nickle-Plated
Adjustable Interior Shelves
Assembly Required, Instructions
Model #: 54238
Made in the USA
How to Care for Your Butcher Block: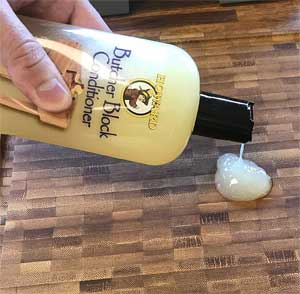 To keep your tabletop surface looking great and to prevent drying an cracking, we suggest using a food grade wood conditioner like Howard Butcher Block Conditioner.
It contains food grade mineral oil and natural waxes that give it an extra level of protection.
In addition to helping your furniture last longer, the oil gives it a rich, lustrous finish. For less than $10 for a 12-ounce bottle, I think this doing this simple task is well worth it.