If you want to add a bold splash of color in your modern farmhouse kitchen, check out this red kitchen island cart…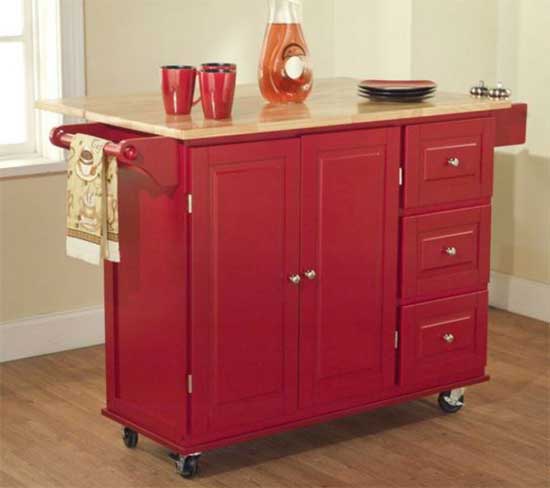 Not only do you have the traditional, casual style of modern farmhouse design, but you get a unique statement piece in the process. Not to mention, the wood top gives it more of a laid-back country feel.
Plus, the functional layout lets you use this mobile kitchen island in a variety of different ways.
1. Kitchen Cart Provides Extra, Easy-to-Access Storage
First of all, the shelves and drawers add a good amount of extra storage to your kitchen. In addition, the cart has a built-in towel holder and spice rack.
Use the additional cabinets to store dishes, utensils, wine or even dry food items. On the other hand, you can use this extra space to keep small appliances stowed out of sight. This keeps your kitchen looking clutter-free and well-organized.
2. Rolling Island Gives You a Convenient Mobile Countertop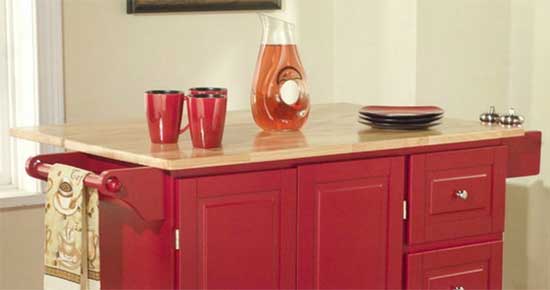 Secondly, this kitchen cart provides more counter space. This comes in handy whether you use the surface for serving food and drinks during parties or for preparing food at dinnertime.
Of course, the attached wheels enable you to take that extra counter space where you need it. Grilling outdoors at the barbecue? No problem! Serving drinks in the living room or foyer? We've got you covered!
3. Plus, Get a Fold-Away Kitchen Table Too!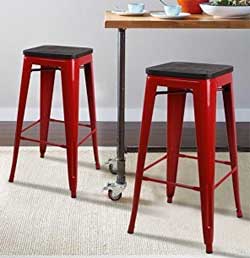 Third, the back side of this kitchen island flips up to create a convenient breakfast bar. With a couple of bar stools, you can instantly create a non-intrusive dining area in your kitchen.
This concept works well if you have a small kitchen or occasionally need temporary seating. Plus, you can roll the island out the deck, living room or dining room and use it where it functions best for you.
While adding lots of style and function to a kitchen, this red kitchen island cart only costs about $300. The unit requires some assembly, however, you don't have to hire a handyman or pay thousands of dollars for a small kitchen remodel.
This option can save you lots of money while still making a big impact on the look of your kitchen. It's a win-win, especially if you like to move your kitchen island all over the house. I mean, this way, you don't have to buy 4 of them. =)
Note: If you like the style and color of this island, yet want furniture that looks a little more vintage, I have an idea. Use a simple distressing technique to make this new piece look more antique.

For example, I take a piece of sandpaper to cabinet door and drawer edges. This wears down the paint and makes the cabinetry look worn and weathered. (Make sure to wear a mask.) If I want to seal the sanded areas, I apply a small amount of paste wax afterwards. You can pick this up at your local hardware store or even Walmart.
Specs for the TMS Red Kitchen Island Cart:
Dimensions: 35.75″ Tall x 53.75″ Wide x 18″ Deep
Flip-Top Adds an Extra 11″ Depth
Material: Manufactured Wood, Rubber Wood Top
Weight: 105 lbs
Color Options: Red, Black, White
Includes 4 Caster Wheels (2 Locking)
Assembly Required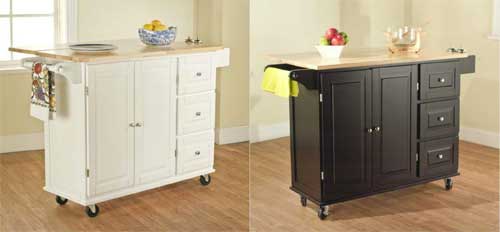 Answers to Frequently Asked Questions About the Kitchen Cart:
1. Is the back side of the cart finished?
Yes, the manufacturer finished and painted the back. You don't have to the backside against the nearest wall. =)
2. Can the caster wheels be removed?
Yes. You can use the kitchen island without the wheels. Removing the casters of course makes the unit less portable. However, you can make it appear more like a built-in cabinet.
3. Can you adjust the interior shelves?
Yes. The cabinet contains 1 adjustable shelf. This feature comes in handy if you want to store large or tall appliances – or if you want to place a trash can there.