There's a lot to like about the Winsome Mali Kitchen Island Cart, but it's not for everyone. Here are my thoughts…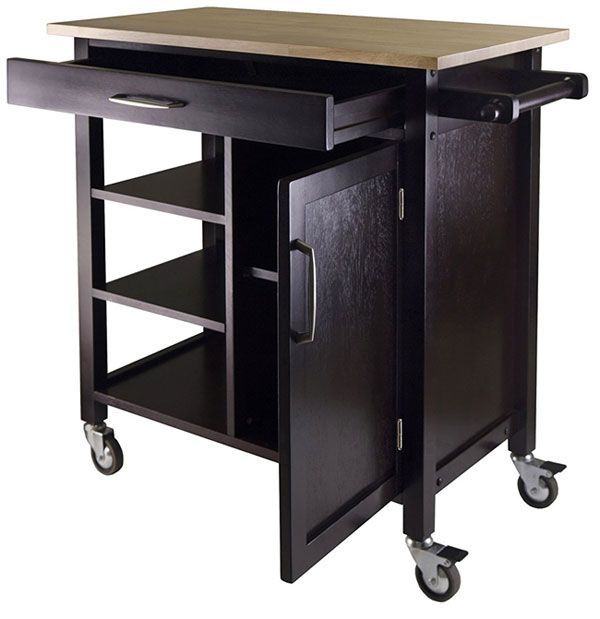 Get Significant Storage Without Taking Up Lots of Kitchen Space
The Winsome Mali Kitchen Cart offers a little bit of everything: open shelving, hidden storage, drawer space and hanging towel rack. While it provides a good amount of storage space, this unit is narrow and compact enough to fit in virtually any kitchen.
The island top measures approximately 33″ long x 18.5″ deep. Therefore, you can push it against a wall when not in use if your kitchen lacks space. In larger spaces, you can keep the movable kitchen island in the center of the room because it is finished on all sides.
Get Lots of Functionality Without Paying a Lot of Money
Although this portable kitchen island doesn't work well for dining, you can use it for a variety of other purposes. For example, use it as a drink cart at cocktail parties, to serve appetizers at family functions, as extra counter space when needed and storage.
The dark espresso finish makes this rolling island look more like a built-in than a utility cart, especially if you have dark brown cabinetry. Plus, with a price tag around $130, you can get a lot of storage space and functionality without having to spend a lot of money.

What You May Not Like About this Portable Kitchen Island
1. No Sit-Up Counter
First of all, the tabletop doesn't extend over the sides of the cart. Therefore, it doesn't make a comfortable spot to eat at. If you want a kitchen island that you can use for dining, you'd be better off getting a different model.
2. Too Small a Working Surface?
Second, the top surface is not very large. The depth only measures about 1 1/2 feet. Although this can work well in smaller kitchens, if you want a larger surface area for chopping food and preparing meals, I'd suggest going with a wider island.
3. Will it Look Out-of-Place?
Third, the dark wood can clash with a light-colored or more modern kitchen. There are no other color options, either.
Winsom Mali Kitchen Island Cart Specs:
Dimensions: 36″ wide x 35″ tall x 18.5″ deep
Weight: 71 lbs
Material: Solid and Composite Wood
Color: Beech Top, Espresso Cart
Cabinet has Removable Shelf
Model #: 92534
Assembly Required
About the Company: Winsom Trading, Inc manufactures solid wood home furnishings. Their furniture designs typically offer lots of functionality, a simple easy style as well as an affordable price.