Compare kitchen islands (on wheels) before you buy! Use the mobile kitchen islands comparison chart to check out prices, material, customer ratings, dimensions, seating, special features and more…
Mobile Kitchen Islands

Rating 1-5
Price (approx)
Length x Width
Height
Material
Colors
Storage
Special Features, Seating

Industrial Style Kitchen Cart

4.4
$285-$300
42″x18″
35.5″
Solid Pine Hardwood, Veneer, Powder-Coated Steel Shelves
Natural Wood, Black Trim
2 Drawers
2 Open Shelves
2 Towel Bars
Unique rustic and industrial style makes this cart an attention-getter. Plus, the long narrow design allows it to fit well in small kitchens or against a wall. See full Industrial Kitchen Cart Review

Farmhouse Kitchen Cart

4.5
$640-$670
47″x15.5″
31″
Lacquered Steel, Pine Wood
Black/Dark Grey
4 Wire Drawers
1 Open Shelf
Narrow design works well in small spaces, plus unique farmhouse design doubles as stylish home decor. See full Farmhouse Cart review here

Sonoma Rustic Island

4.4
$225-250
44″x20.5″
36″
Rubberwood, Stainless Steel Top
Distressed Grey
2 Drawers
2 Open Shelves
Towel Bar
Weathered look with industrial appeal, plus spacious open shelves. See complete Boraam Sonoma review here

Homegear Kitchen Island

3.9
$150-$170
47″x19″
35.5″
Sustainable Hardwood, Rubberwood Top
Brown, White
2 Drawers
2 Open Shelves
3 Hooks
Towel Bar
Simple, modern design at a low price. Spacious open shelving and unique side hooks provide easy-to-access storage. Rubberwood butcher block top good for food prep. See full Homegear Kitchen Island Review

Kitchen Cart w/ Stools

4.4
$125-$200
29.5″x29″
32.75″
Solid, Composite Wood
Teak, Natural
2 Drawers
Towel Bar
Storage Space for Stools
Compact kitchen cart serves as a mini breakfast table. Easy to store and great for small kitchens. See full Winsome Space-Saver Island Review

Origami Kitchen Cart

4.6
$99-$150
25.5″x20″
36″
Steel, Wood
Grey
2 Open Shelves
Folds flat to easily store in a closet or against a wall. Plus, you can carry this portable island with you places. See Complete Origami Cart Review

Butcher Block Island

3.6
$200-250
41.5″x17.7″
36″
Engineered Wood, Butcher Block Top
White
1 Drawer
1 Cabinet
2 Open Shelves
Wine Rack
Towel Bar

Solid wood butcher block makes great countertop for chopping vegetables and preparing food. see complete butcher block island review here

Winsome Mali Kitchen Cart

4.3
$175-$200
36″ x 18.5″"
35″
Solid/Composite Wood
Espresso
1 Drawer
1 Cabinet
3 Open Shelves
Towel Bar
Long drawer can hold larger items, and versatile cabinet has removable shelf. See complete Winsome Mali review here.

HomCom Rolling Island

3.7
$399-425
57.5″x29.5″
36″
Pine, Rubberwood Top
Black, White
2 Drawers
2 Double Cabinets
2 Towel Bars
Spice Rack
Large mobile kitchen island that features a flip-up tabletop for dining or additional meal preparation space. See HomCom Island Review here.

White Granite Mobile Island

4.2
$440-$470
48″x18″
35.5″
Asian Hardwood, Granite Top
White, Black, Cherry
4 Drawers
2 Cabinets
2 Towel Bars
1 Spice Rack
Upgraded stone tabletop surface. Also, you can use this island with or without the casters. See full Granite-Top Island review here

Mobile Breakfast Bar

4.6
$430-$460
52.5″x19.25″
36″
Sustainable Hardwood
Natural Wood Finish
4 Drawers
2 Cabinets
2 Towel Bars
1 Spice Rack
Includes flip-up table for seating and extra counter space. Looks great with or without casters. See complete review of the Mobile Breakfast Bar Faucet
Tips on Shopping for Mobile Kitchen Islands:
Kitchen carts and mobile islands can provide extra storage space as well as additional countertops for food prep. However, before you buy – decide how you want to use your kitchen island. This will help you find the best product for you (and maybe even save you some money in the process).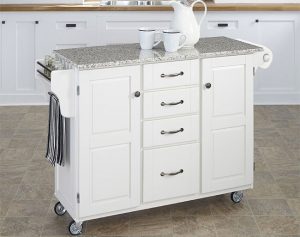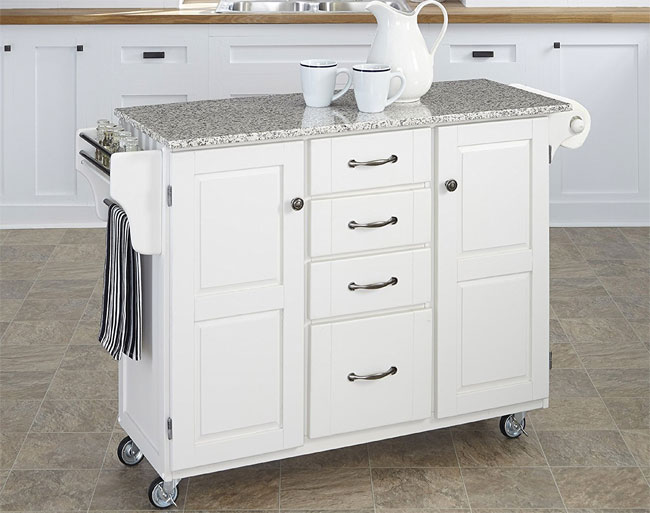 For example, you can use some as a breakfast bar or mini kitchen table. If you need extra dining space, these can be very convenient.
Alternatively, you can use carts to serve food and drink to guests. Move them to wherever you need an extra buffet or serving table.
In addition, you can roll an island outside to hold food while barbecuing, or to serve snacks by the pool. Some even fold up to where you can carry them with you to special events.
Also, think about the style and how it will fit in with your existing cabinetry or home decor. Do you want a furnishing that will match – or a statement piece that will stand out?
More Ways to Use Kitchen Islands on Wheels…
You may discover that carts on wheels are so convenient that you can use them all over the house. For instance, in the entryway to hold shoes, purses, keys, etc.. Or, as a hallway credenza. Take it into your home office to use a mobile workstation. Or how able the stainless steel table in the garage for mobile storage. And, maybe in the living room as a TV console.