Lots of storage features AND functionality here. First of all, Baxton Studio's Kitchen Island provides extra storage space for small appliances, cookbooks, dishes, etc..
Second, the cutting board surface gives you a great working area for food prep. I mean, who wouldn't want a 3.5 foot x 1.5 foot cutting board in their kitchen, right?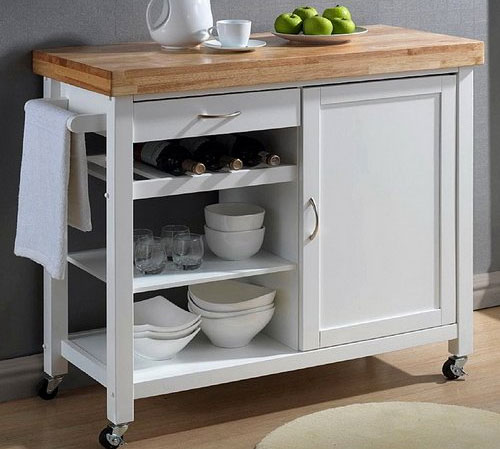 Third, you get lots of versatility, because this butcher block island includes both a closed cabinet plus open storage shelves. Keep dishes, utensils and cooking gadgets easily accessible, but hide ugly appliances that you don't want to see.
Note: If the Baxton Studio rolling wine cart is out of stock, you can find a similar model here. In fact, it looks virtually identical except for the butcher block thickness and the handle style.

In addition, this mobile cart costs over $100 less. So, it you want to save some money, take a look. =)
And, Turn Your Butcher Block Island into a Wine Cart…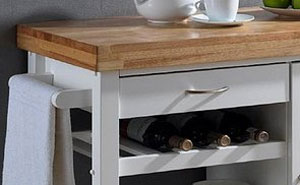 Alternatively, you can turn this rolling island into a wine cart. The top slatted shelf can be used to store wine bottles (as shown in the photo), and the shelves can hold glasses.
Keep bottle openers and napkins in the handy drawer, and you've got everything ready to go for your next wine tasting party! Roll your cart outside, and easily do your wine tasting on the deck without having to set up an extra serving table.
Then, Use it for Extra Storage When You're NOT Using it.
Essentially, you can add an extra cabinet, shelves and countertop space to your kitchen without having to pay for a remodel. In fact, you can get this cart for as little as $230, when on sale.
Note: The 1.5′ depth makes it easy to slide against a wall or into a corner out of the way. Therefore, you don't always have to keep it in the center of the room if you simply don't have the space.
I like the fact that this rolling island has a closed storage area for concealing items that add clutter. At the same time, I think that the open shelving adds contemporary style for displaying bowls, cookbooks or glasses.
The Problem with this Kitchen Island…
One downside to this rolling kitchen island is that it only comes in white. Otherwise, I would suggest rolling it outdoors when you are grilling and using it for supplemental food prep.
However, the white color would be hard to keep clean, especially with dripping meat, etc.. The stainless steel island would be a better option.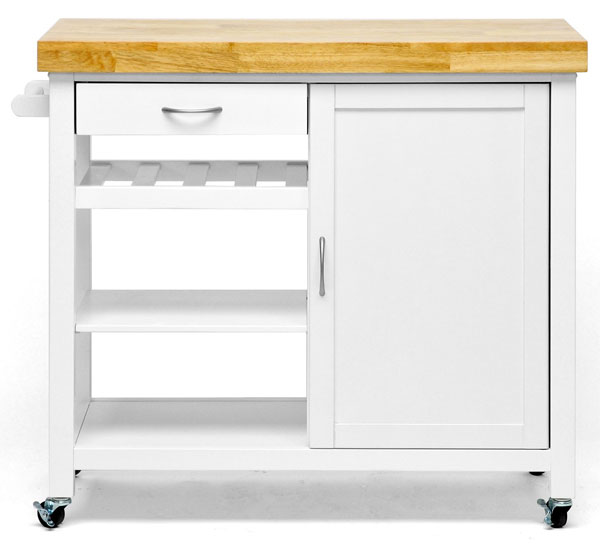 Baxton Studio Butcher Block Island Specs:
Dimensions: 41.5″ wide x 35.8″ tall x 18″ deep
Weight: 80 lbs
Material: Manufactured and Rubberwood Frame, Butcher Block Countertop
Color: White
Includes Locking Caster Wheels
Model #: RT185-OCC (Denver)
Assembly Required
About the Manufacturer: Baxton Studios designs and produces furniture that has a sleek, modern appeal. At the same time, they strive to make their products both affordable and easily accessible to the everyday consumer. Many of their pieces feature clean, upscale designs, and some even have a European feel.