Do you like commercial or industrial style furniture or enjoy minimalist design? Then you'll probably think this stainless steel kitchen island is cool.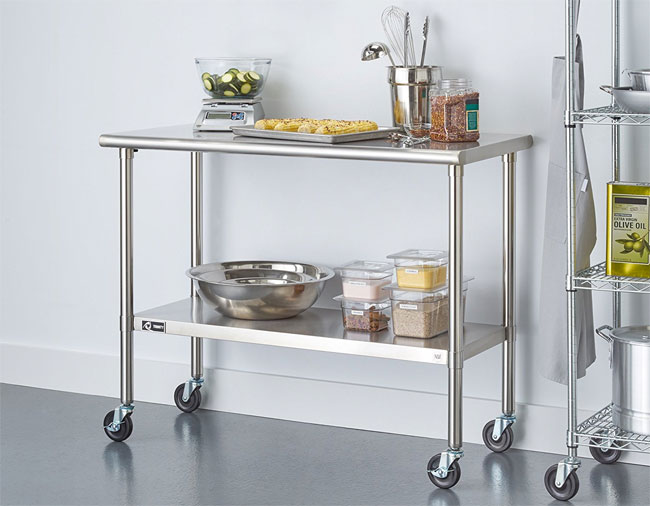 Advantages of a Stainless Steel Commercial Style Island:
It has a super simple structure, yet it is really functional. Use it for storage, cooking prep, serving, a kitchen table and more.
With a footprint of 4 feet x 2 feet, it's large enough to use as a kitchen island. Plus, its compact shape lets you position it against a wall without looking intrusive.
I particularly think this mobile island makes a great food prep surface that you can then roll out to the grill. Alternatively, you can use it to serve dinner in the living room when the family wants movie night. No running back and forth to the kitchen. It's super convenient.
Note: The shelf and top have rounded edges and corners. Although they look and act tough, you can feel safe using them around kids, pets and friends who run into things a lot.
The Pros & Cons of an Open Shelf Kitchen Island
Pros: Open shelves can make a room look more spacious, especially a small kitchen. This structure also makes items easy to find (and grab) in an instant.
The stainless steel is easy to clean, and it doesn't have walls or doors that need cleaning either. Plus, the metal frame lends to the heavy-duty look and feel of the furniture.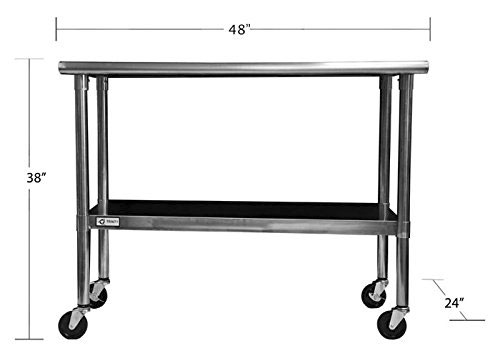 Cons: All that said, you have to appreciate open storage because this kitchen island has no closed cabinets or drawers. You can't hide anything here, even dust.
If you keep your dish ware, containers and appliances neat and organized, you have nothing to worry about. On the other hand, if you like to hide your mess behind closed doors, this stainless steel island may not be ideal for you.
Note: These stainless steel rolling tables look good in multiples. Plus, they fit well in kitchens that have stainless steel appliances (of course, right?). You can even remove the casters and use them as stationary tables or storage shelves.

Plus, people use them outdoors, in the garage, etc.. Did I mention that this kitchen island functional? 😉
Stainless Steel Kitchen Island Specs:
Dimensions: 48″ long x 24″ wide x 38.5″ tall (with casters)
Weight: 55 lbs
Material: Stainless Steel
Adjustable Shelf
Weight Capacity: 300 lbs (150 lbs per shelf)
(4) 1″ Swivel Casters (2 locking)
Some Assembly Required (no tools needed)
Model #: TLS-0201C
Stainless Steel Kitchen Prep Tables: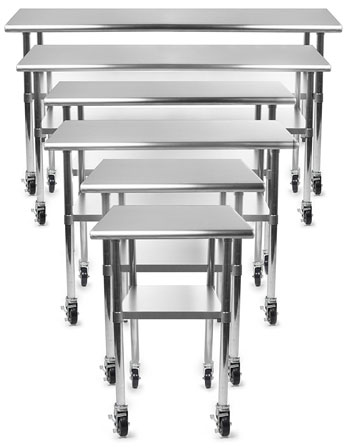 Need a different size table? No problem! Gridmann makes a stainless steel kitchen prep table with 7 size options to choose from.
Like the model above, this table comes with 4 caster wheels and an adjustable shelf. Sizes include (length x width):
Note: These prep tables (by Gridmann stainless steel restaurant supply company) are designed for commercial use. Therefore, they may come with visual imperfections (ie. scratches scuffmarks, dents).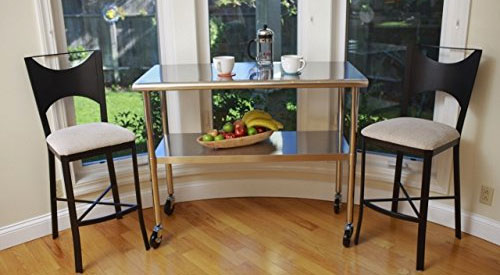 About the Manufacturer: Trinity International Industries create a line of EcoStorage products that reduces waste, energy, and toxic chemicals.