A mobile kitchen island doesn't necessarily have to "look" like a kitchen island. It depends on what you want to use it for, right? Take, for example, this farmhouse-style metal kitchen cart.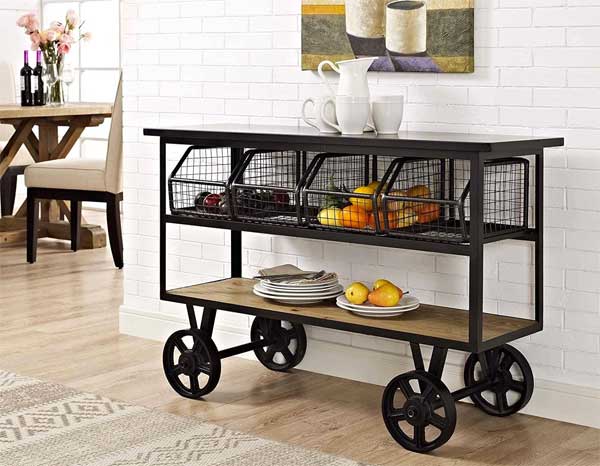 Modway Fairground Industrial Farmhouse Serving Stand
Use it for produce storage, or to stack dish-ware. Due to its 10′ wide design, this farmhouse kitchen cart can easily provide lots of additional storage without taking up extra floor space.
This Weathered Farmhouse Kitchen Cart is Ready to Party!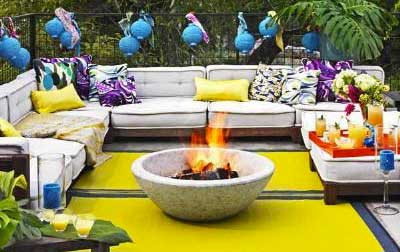 On the other hand, you can roll this mobile island into the dining room and use it as a buffet table to serve food to friends.
Alternatively, you could turn the tabletop into a mini bar where your guests can pour themselves cocktails or wine.
Plus, you can wheel it outside to use while cooking at the barbecue, dinner on the patio or even serve snacks poolside. In fact, you may never eat in the dining room again!
A Rolling Kitchen Serving Cart that Has Just as Much Style as it Does Functionality…
On top of being ultra versatile and functional, this rustic piece of furniture has its own unique look. Don't be surprised when friends and family comment on how cool it looks.
In fact, you can incorporate this furnishing into your farmhouse style decor and simply use it to display artwork or other kitchen items. Regardless, it adds style and a chic look to any space.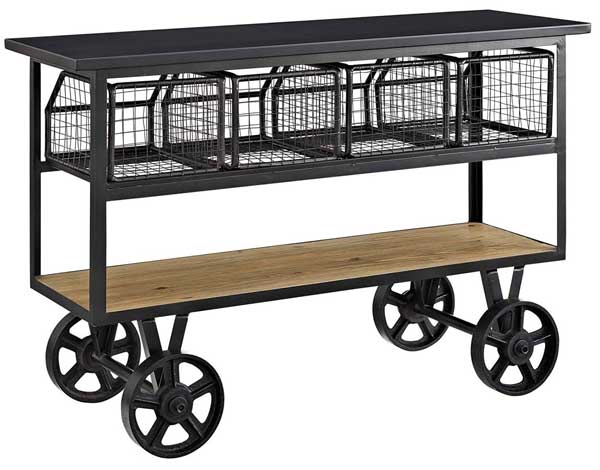 Don't be misled, though. This sturdy, steel-framed kitchen cart is durable enough to be used everyday. You can get a lot of use out of it, considering all of the ways you can use it. (Not to mention, you'll save money on furniture because you can use 1 piece for all sorts of different occasions.)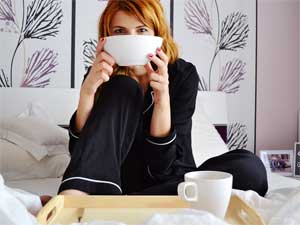 Want to serve breakfast in bed or eat lunch in your home office? No problem! This industrial kitchen cart can easily take on the task. Talk about being a breakfast bar and food truck at the same time…
Gain More Space, (Especially in a Small Kitchen)
Need extra counter space in the kitchen, or do you lack cabinet storage? Not only can this cottage-style cart help you out, it can display dishes, appliances and pantry items in a way that actually looks cool.
Get fruit baskets and small kitchen appliances off of the counter and free up work space. Less clutter makes for a prettier kitchen and a happier chef anyways. =)
Note: By the way, these wire baskets make the idea spot for storing frequently-used spices and seasonings. Put them in close reach, plus you can easily see what you need while you're cooking. (Even at the grill!)
The Modway Fairground Cart is Easy to Clean Too
Have you ever wanted to wash our your kitchen drawers? Well, you can with this commercial-grade frame and baskets. Simply remove the wire baskets and "hose them down" in your sink.
In fact, many people who like stainless steel kitchen islands like this style as well for its simplicity and easy upkeep.
I think low-maintenance furniture makes a great addition to any kitchen because, I mean, who wants extra cleaning, right?
What this Rolling Kitchen Island Doesn't Have:
I would have liked to see this cart with end racks that could hold towels or cooking utensils. Plus, they make it easier to push and pull the cart. Having said that, the sleek metal tabletop looks better when on display without towels hanging off the sides.
The wheels only roll forward and backwards, rather than being 4-way casters. Therefore, it can be somewhat more challenging to navigate the cart through the kitchen.
As you can see, this cart does not have any closed or concealed storage. Hence, get ready to be organized, or your cart's going to look like a mess. (That said, you can sure find items easily with open storage!)
Farmhouse Kitchen Cart Specs:
Frame & Tabletop Material: Black Lacquered Steel
Shelf Material: Natural, Sealed Pine Wood
Cart Dimensions: 47″ Long x 15.5″ wide x 31″ tall
Basket Dimensions: 14″ long x 10″ wide x 8″ tall
Weight: 88 lbs
Metal Casters Roll Forwards and Backwards (not side to side)
Model #: EEI-2642-BRN