Do you need a mobile kitchen cart that you can use outdoors by the barbecue? Keter's BBQ prep table with storage cabinet can help you cook and serve, plus you can roll it around.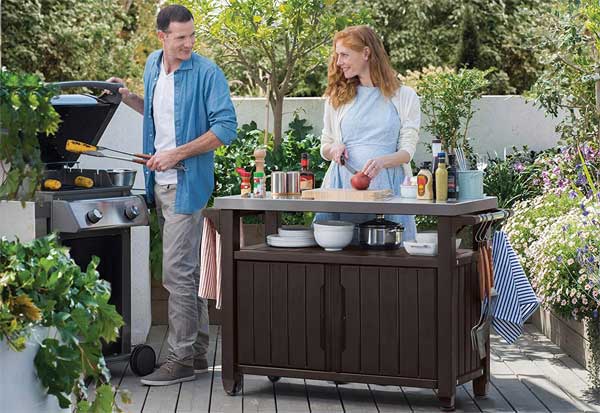 Let's take a look at all of these cool features…
1. BBQ Table has a Spacious Stainless Steel Countertop
First of all, this mobile island features a high-grade stainless steel countertop. In other words, you get a really durable food prep surface where you can slice, dice and chop. Not to mention, the sleek metal surface makes for easy clean-up.
At almost 4 feet long by over 1.5 feet wide, Keter's outdoor grilling table provides a good amount of working space. At the same time, the slim design means that it won't overwhelm your patio.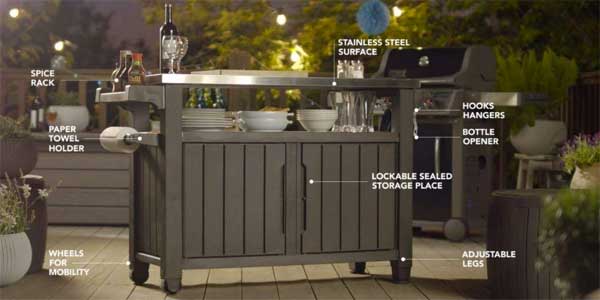 2. Outdoor Serving Table has Lots of Storage Underneath
Second, this prep table comes with enclosed storage as well as a large open shelf. Therefore, you can store plenty of dishes, drinks, paper items, etc.. for when you need them.
In addition, you can keep some items easily accessible directly underneath the countertop. This makes the ideal spot for plates, bowls or glasses where guests can serve themselves.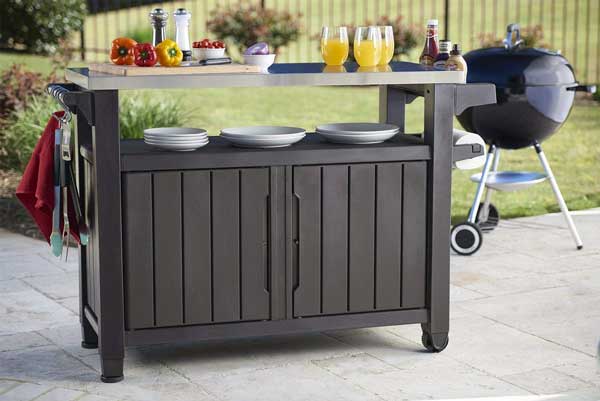 3. Outdoor Kitchen Prep Table Holds Cooking Gadgets for You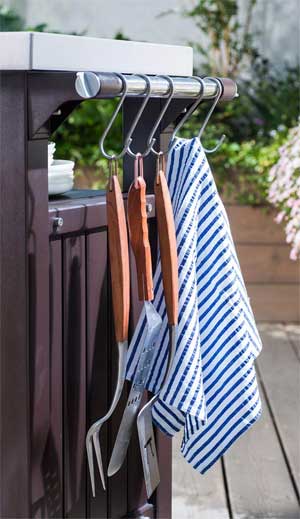 Third, this outdoor BBQ table includes handy table-end accessories. For example, it has a built-in spice rack, paper towel holder, utensil rack and bottle opener.
In other words, you can keep your cooking tools and gadgets conveniently close by without taking up valuable table space. Plus, you don't have to worry about misplacing your bottle opener. =)
The Advantages of Having a Mobile Cart…
Compared to a built-in outdoor kitchen, this mobile kitchen prep table can double as an outdoor bar cart. For instance, you can easily roll it where you need it, whether you are cooking food or serving drinks.
Pour cocktails on top and keep extra glasses, bottles, napkins and ice underneath. Move it from the grill to the outdoor dining area to the pool or garden patio.
In other words, you can get a lot of use out of this multi-functional stainless steel outdoor prep table. Not to mention, this low-maintenance, all-weather mobile cart is durable enough to keep outside year-round.
In fact, these affordable mobile storage carts are priced under $150. Therefore, you can easily get more than one and use them for various functions, especially if you entertain frequently.
Specs for the BBQ Prep Table with Storage:
Dimensions: 48.7″ Long x 20.4″ Wide x 35.4″ Tall
Tabletop Dimensions: 45″ long x 20.5″ Wide
Weight: 50 lbs
Storage Capacity: 78 Gallons
Material: Polypropylene Resin Plastic
Finish: Wood-look Texture
430 Grade Stainless Steel Tabletop
Countertop Weight Capacity: 110 lbs
2 Color Options: Brown or Graphite
2 Rolling Casters on Bottom
Adjustable Legs for Uneven Surfaces
Minimal Assembly Required
Model #: Unity XL
Brand: Keter
Note: By the way, this outdoor grill cart can double as a gardening bench if you want. The under-counter cabinets can hold soil bags, watering cans, fertilizer, gloves, etc.. Plus, you can hang your trowels and gardening tools from the side hooks.