Do you like the look of reclaimed wood and vintage furniture? This farmhouse kitchen island with wheels can not only add style to your home, but function as well…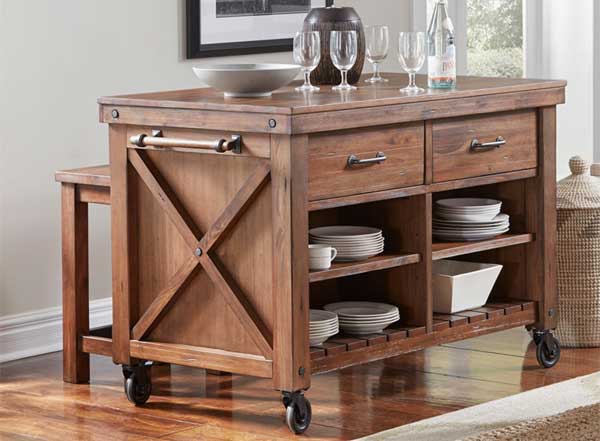 Unique Design Provides More Space & Dining Capability:
As you can see, it provides deep open shelves and large drawers for dishes, glassware and utensils. Therefore, you gain lots of extra storage space without having to build more cabinets.
Not to mention, this mobile kitchen cart enables you to have items conveniently accessible when you need them. For example, if your kitchen island doubles as a breakfast bar, you can store things you use for your morning meals within reach.
Note: By the way, you can get matching stools for this kitchen island that have that simple, rustic look. This also makes your mobile cabinet a lot more functional too.

For instance, guests can hang out while you cook dinner, kids can work on homework, or your kitchen island can double as a dining table. You can get the bar stools here: Anacortes Matching Counter Stools.
How Higher Quality Delivers More Value to You:
Up close, you can see that the finish really looks like reclaimed wood. The wire brushed distressing techniques and metal accents give this freestanding kitchen island a vintage rustic feel.
Compared to most assemble-yourself furniture, the Anacortes doesn't contain any cheap MDF or particleboard. As a result, it easily stands up to frequent heavy-duty use and won't absorb moisture and warp.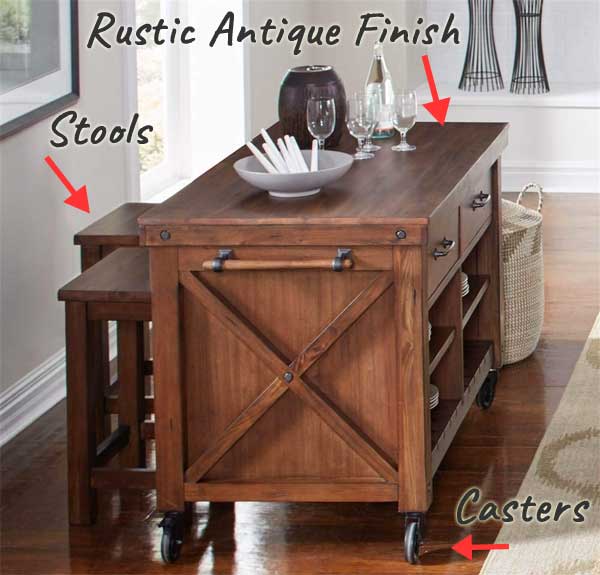 In addition, the hardwood is kiln-dried. Consequently, the wood won't split or crack over time. This is one piece of furniture that will last a long time, stay looking good and won't require lots of maintenance. =)
3 More Ways to Use Your Farmhouse Kitchen Island?
Although this mobile kitchen island can add a lot of function, I wouldn't limit it to this area of the house. I mean, why not take advantage of its versatile design and use it in other spaces?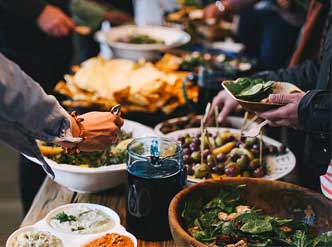 1. Serving Buffet: For example, the open shelves, drawers and spacious countertop make it the perfect dining room buffet table. Use it for serving meals as well as storing dishes.
2. TV Console: On the other hand, this old farmhouse style cart can hold a large screen TV and a variety of media components underneath. Talk about having a unique focal point in your living room. (Plus, you can easily move your TV if you want!)
3. Office Desk: I also like the idea of using this farmhouse kitchen island bar as a workspace. The rustic and industrial design make it a really cool-looking desk, plus you get a big desktop surface.
No matter how you decide to use it, the portable aspect makes this multi-purpose kitchen island cart ultra-versatile. In other words, you can get a lot of value out of the Anacortes kitchen island.
Specs for the Farmhouse Kitchen Island with Wheels:
Is This Mobile Kitchen Island Too Big?
Many people like the fact that this kitchen island has a substantial 30″ width. Therefore, you have a lot of space for food prep, etc..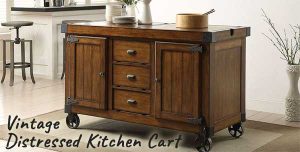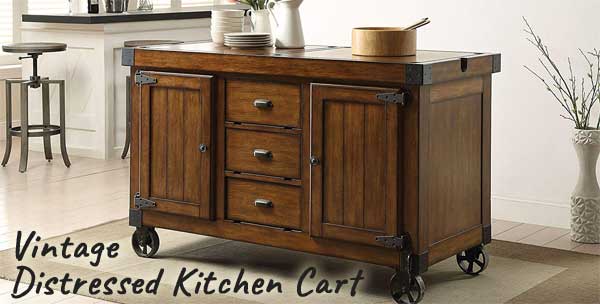 However, if you have a smaller kitchen of prefer a narrower island, you may prefer the Kabili Kitchen Cart.
It has a similar vintage industrial farmhouse design, yet it only measures 22 inches wide. So, you can roll it up against a wall out of the way if you need to.