Do you want a rustic/industrial looking cabinet or buffet table where you can serve food and drinks to guests? How about this vintage rolling kitchen cart that you can easily move to wherever you need it?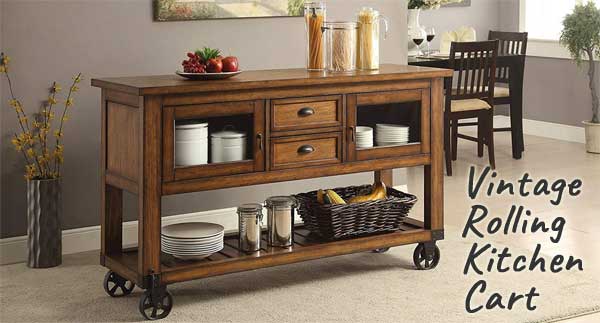 This antique-style cart includes utensil drawers, glass cabinet doors and a large open lower shelf. As a result, you can conveniently store a wide variety of different-sized items all within easy reach.
While it provides ample storage, the Kadri kitchen cart is designed to fit snugly against a wall. In other words, it doesn't take up a lot of floor space, since it only measures 20 inches deep.
Consequently, you can fit this rolling storage cupboard in many spaces where other cabinets won't fit. For example, place it underneath a window in a kitchen, along a dining room wall or even in a wide hallway.
Note: Does your home have a "great room" that you use for both dining and entertaining? You can use this mobile cabinet behind a sofa as a type of "room divider", while providing storage for dishes, placemats and napkins.
How This Vintage Kitchen Cart Delivers More Value: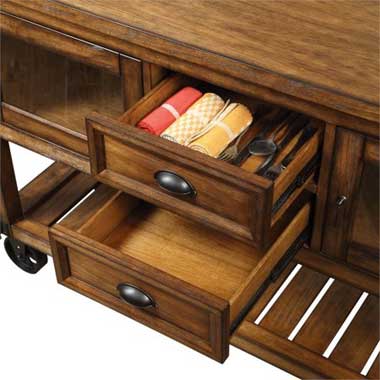 Even though the Kadri is labeled as a "kitchen cart", it has a high-end look that gives you a lot more than your average mobile cart.
In other words, its aged, antique finish fits well in an upscale dining room as a buffet table or a living room as a storage cabinet.
You could even roll it against a wall in a front entry or hallway when not in use. It can double as a display table in addition to providing extra storage.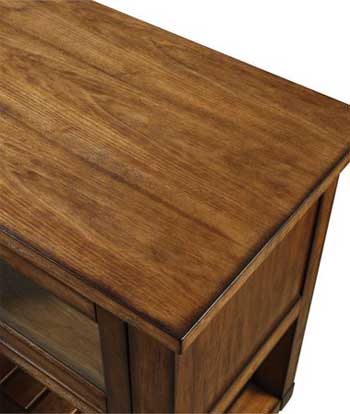 Its unique distressed finish looks very attractive, so this mobile cabinet can easily become a focal point in a room.
Not to mention, the aged wood look with burned edges looks authentic, like a one-of-a-kind vintage piece.
As you can imagine, the Kadri fits well with rustic, industrial or modern farmhouse home decor.
Consequently, you get a multi-functional rolling cabinet that also adds that decorator style to your home.
Mobile Storage Makes this Cabinet Ultra Functional:
On top of all that, this rolling cabinet on wheels offers a significant amount of storage space. Therefore, the Kadri cart is completely functional, whether you are serving food or drinks – or you're storing dishes, utensils or small kitchen appliances.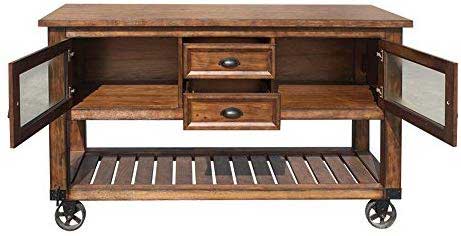 Furthermore the wheels make this cupboard extra functional and user-friendly because it's so easy to move. Simply push and roll it across the room, your house or even outdoors. Use it for all sorts of parties and events – when and where you need it. =)
Vintage Rolling Kitchen Cart Specs:
Dimensions: 58″ Long x 36″ Tall x 20″ Deep
Weight: 143 lbs
Material: Wood, Engineered Wood, Veneer
Color: Distressed Chestnut
Metal Handles and Corner Hardware
5mm Tempered-Glass Doors
Includes Caster Wheels
Assembly Required
Model #: 98180
Brand: ACME Furniture
Phone: (626) 964-3456
For Sale: Where to Buy the Kadri Vintage Cart