Looking for more vintage-looking or farmhouse decor? Check out my latest find: the Roots Rack Kitchen Cart…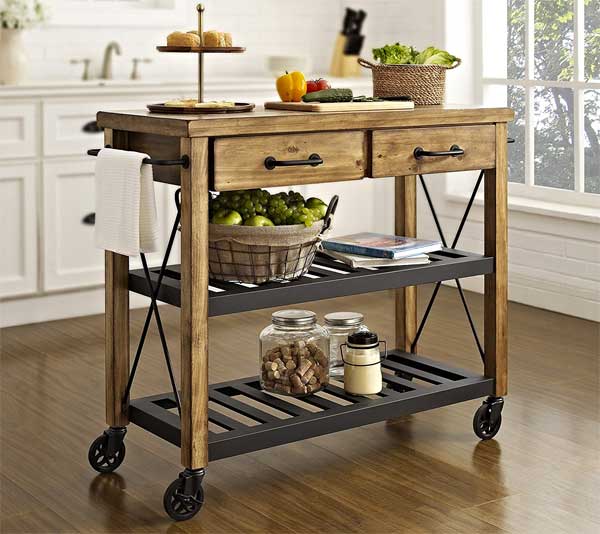 What I Like About the Roots Rack Rolling Kitchen Cart:
This sturdy pine and steel rolling kitchen island provides lots of charm. Yet, it has lots of function at the same time (ie. mobile countertop, storage space, towel bars, etc..).
Plus, this cart only measures 18″ deep. Therefore, you can easily push it out of the way against a wall when not in use. The Roots Rack Cart works well, whether you have a small kitchen or simply need an extra tabletop that you can easily move to a variety of locations.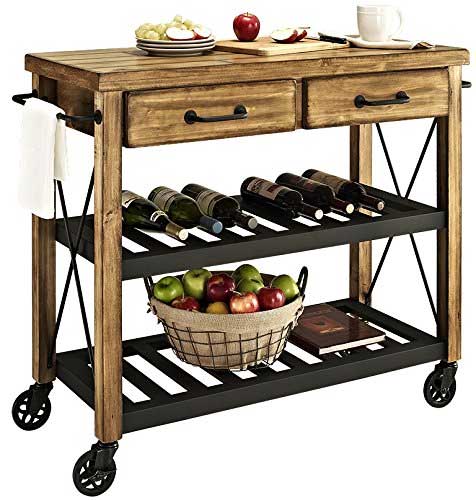 It Makes the Perfect Wine Cart
In addition to being a handy serving table or food prep station, the Roots Rack can do even more. For example, use it as a wine cart to both store bottles and serve drinks.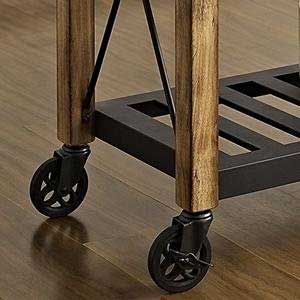 The slatted shelves provide a secure place to store wine bottles – and prevent them from rolling away. Plus, the drawers can conveniently store bottle openers, corkscrews, napkins and other utensils.
Use it Outdoors for Barbecues
On the other hand, you can roll this mobile island outside on the patio to serve dishes or hold food by the grill. Or both! I mean, this cart rolls, right?
Speaking of rolling the cart around, I really like the industrial styling of the 2 towel bars. They also make moving this kitchen cart, because you can just pull the bars.
This Rustic Kitchen Cart is Built to Last
Conveniently, the same features that give this furnishing its natural farmhouse style also provide long-lasting durability.
For example, the X support bars on the sides not only add to the industrial, rustic style. They do double duty by also giving this furniture more stability.
The powder-coated steel shelves don't flinch at spills, dings, moisture, etc.. Plus, they don't rust, stain or show dirt. In fact, they are very easy to clean.
The strong pine frame can hold its own too. That said, it does feature that "weathered wood" look. Therefore, any additional "weathering" that you give to this cart will only add to its charm…

Potential Downsides of this Kitchen Cart:
1. You Can't Use the Wood Top as a Cutting Board
The pine wood is not a butcher block, it is laminated. Therefore, you don't want to use the top as a cutting board. Nor do you want to place hot pots and pans down without some protection.
2. You Can't Use it as a Breakfast Table
Due to the middle shelf, you can't easily use this kitchen island as a breakfast bar.
3. The Long Shape Doesn't Fit All Kitchens
If you have a really compact kitchen, the long rectangular shape of this kitchen island may not work for you. Instead, a square-shaped cart might work better. Like the Origami Kitchen Cart, for instance.
Roots Rack Kitchen Cart Specs:
Material: Solid Pine Hardwood, Veneer, Powder-Coated Steel Shelves
Dimensions: 42″ long x 18″ wide x 36.5″ tall
Weight: 70 lbs
Locking Casters
Model: #CF3008-NA
Brand: Crosley Furniture
Rating: 4.5 out of 5 Stars
Price: $300-$350
With all of its functionality and versatility, the Roots Rack kitchen cart still adds lots of value even when not in use. Use it as a classy-looking display case in virtually any room. Having said that, you'll probably always find a way to put this rolling rack to good use…