Do you want a more sophisticated-looking mobile kitchen island? Home Styles makes a white kitchen island with a granite top that adds a lot of style. Yet, it doesn't cost much more than other islands on wheels…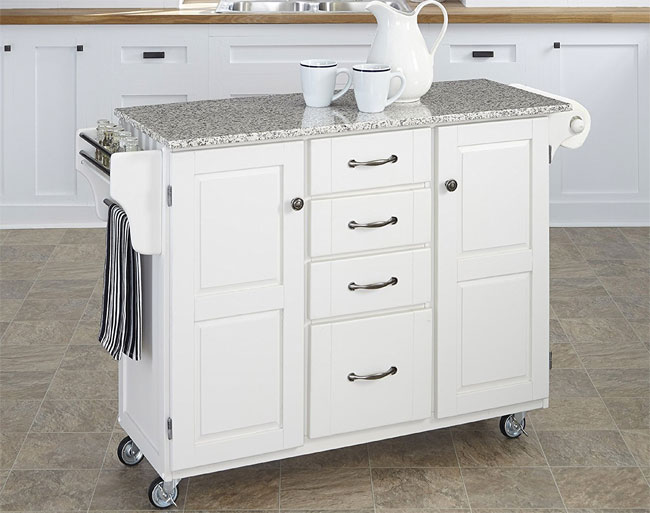 The cabinetry has a bright white color. Therefore, if you are trying to match bright white cabinets in your kitchen, you're in luck!
Note: By the way, if you want to use this cart without the casters, you can. The kitchen island measures 32″ tall without the casters attached.
4 Reasons Why I Like this Kitchen Island:
1. Efficient Design
First of all, I like the size and shape of this island. At 4 feet wide, this unit provides a long enough surface for 2 people to work at.
In addition, the 1.5 foot depth allows you to easily push the island against a wall when not in use. It is not so deep that it will significantly protrude from the wall.
2. Plenty of Storage
Second, this cart provides lots of storage with 4 drawers and 2 cabinets (each with an adjustable shelf). With doors that shut, you can conceal clutter.
Open shelving can look nice and make contents easy to access and view. However, it can tend to look messy if you have lots of items that aren't neatly stacked.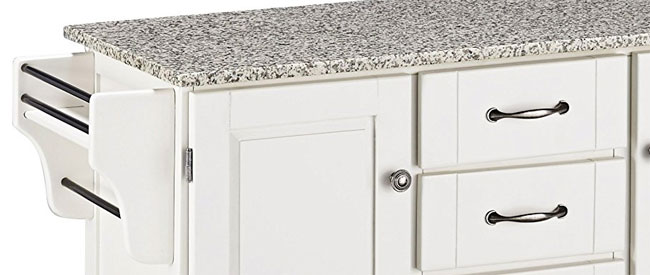 3. Bonus Accessories
Third, the side rack and hanging rods offer additional convenience. Hang towels, utensils and other gadgets. Store commonly-used seasonings within reach so you don't have to go look for them while preparing meals.
4. Multiple Color Options
Fourth, you can choose from several different finishes/colors. In fact, this island is part of the "Create-a-Cart" product line. Choose from:
2 Reasons You May Not Want to Buy It
1. I find that rolling kitchen carts are convenient because you can roll them outdoors and use them by the grill. The upscale look of this piece makes me want to leave it indoors for fear of getting meat drippings and grease all over it. I would choose something like an easy-to-clean stainless steel island instead.
2. I also wish that this island had a flip-up table because it would double the workspace area. In addition, you could use it as a breakfast bar with stools like this one.
Specs for White Kitchen Island with Granite Top
Dimensions: 48″ wide x 35.5″ tall x 18″ wide
Weight: 112 lbs
Color: White
Material: Solid Natural Asian Hardwood with Salt-and-Pepper Granite Top
Includes 4 Casters, 2 Locking
Model # 9100-1023
Assembly Required
About the Manufacturer: Home Styles Furniture
Assembly for this unit does require some time. However, the only tools you will need include a phillips screwdriver and a flat head screwdriver. More information: Assembly Instructions #1 Assembly Instructions #2