Do you like industrial/vintage furniture and the look of weathered wood? I found this custom-looking rustic kitchen island – and it has wheels, so you can easily move it around.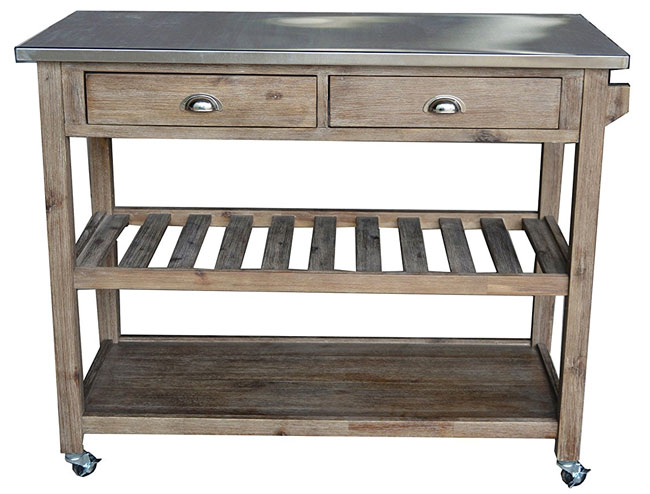 This Kitchen Island Looks Expensive… But It's Not
It's actually called the Sonoma Wire-Brush Kitchen Cart due to its distressed look. Plus, it does actually look like a piece of furniture that you'd find in a wine country kitchen, right?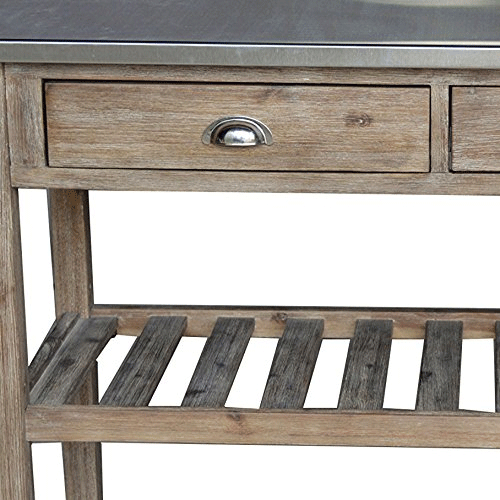 In fact, this unique "wire brush" finish makes the kitchen island look custom made. It shows like a vintage one-of-a-kind piece of furniture that could cost upwards of $1,200. (But it only costs $300!)
The Sonoma Kitchen Cart is Designed for Frequent Use
1. Stainless Steel Top
In addition to its authentic country look, this rolling kitchen island is well made. For example, the stainless steel countertop can take on any task. And, the more you use the surface, the more it looks like it came from a real chef's kitchen.
2. Open Middle Shelf
The middle shelf has an open feel because of its contemporary slatted design. However, you can also adjust it up or down, depending on which appliances, dishes or cookbooks you plan to keep there.
Easily find and grab what you need. Plus, you can store a good amount of cookware and utensils so you can keep your kitchen countertop free of clutter.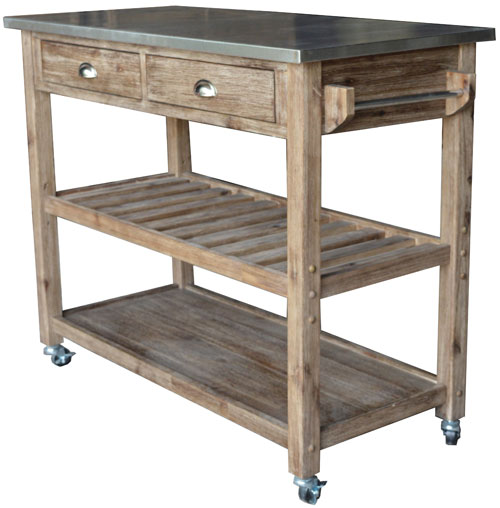 3. Easy-to-Use Drawers
Furthermore, the two drawers have metal gliders that make them really easy to use. When working in the kitchen, we often find ourselves multi-tasking. Convenient features such as this can truly make a difference.
Kitchen island drawers make a great spot for knives, smaller kitchen gadgets, cookbooks, towels, etc.. Have them easily accessibly when you're cooking, and safe and secure when you don't need them.
4. Mobile Versatility
The locking caster wheels let you easily roll this cart from kitchen to living room to patio. Whether you need extra counter space for food prep or you want a table for serving drinks or food, the Sonoma can handle it all.
Sonoma Rustic Kitchen Island Specs:
Dimensions: 44″ wide x 36″ tall x 20.5″ deep
Countertop: 1.25″ thick
Weight: 62 lbs
Material: Rubberwood Cart, Stainless Steel Countertop, Brushed Chrome Hardware
Finish Color: Grey Wire Brush Distressed
Locking Caster Wheels
Weight Capacity: 220 lbs
Model #: 98520
Easy Assembly Required, Tools Included
About the Manufacturer: Boraam Industries produces high quality furniture designed to be durable enough for everyday use. They focus on producing a premium look while selling their furniture at an affordable price.