Do you want a spot where you can eat in your kitchen – but you don't have enough space to put a table? Check out this really cool kitchen island cart + stool set!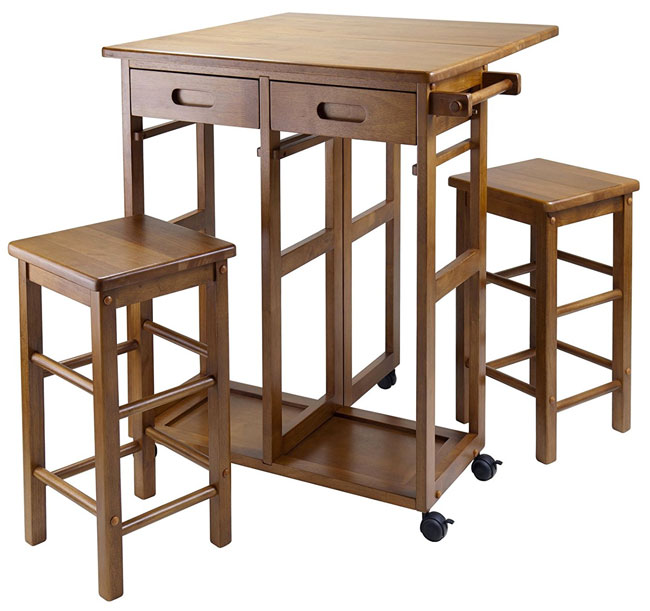 Conveniently Compact, Yet Ultra functional
Essentially, you can have the kitchen dining spot you always wanted (for a fraction of the price!). Then, you can roll it conveniently out of the way when you're done.
It also comes with 2 handy drawers and a towel holder. Stow dishes, napkins, utensils or other gadgets in a convenient spot. Now, this kitchen cart is actually sounding better than a regular breakfast table, right?
When folded, this dining set only measures about 30″ long x 15″ wide because of the drop leaf top and clever stool storage area. See what I mean in the picture below: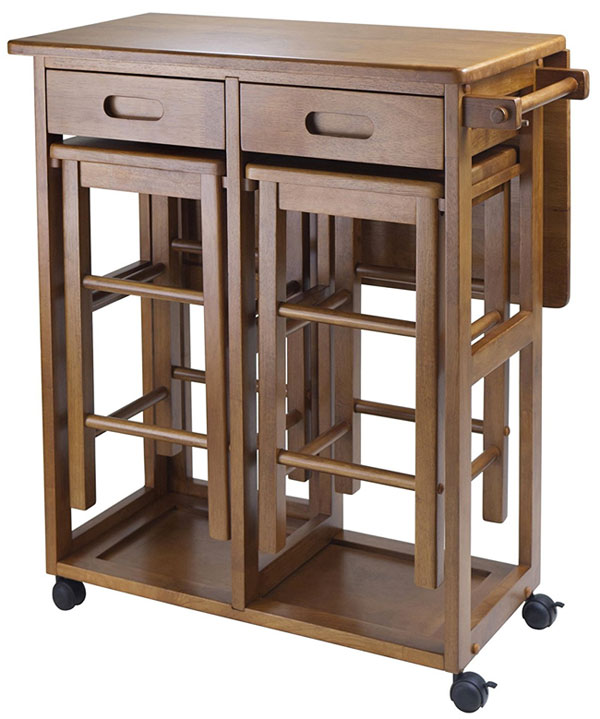 This is More than Just a Kitchen Island Cart…
In addition, you can roll this mobile cart outdoors on the patio if you want to eat under stars. Alternatively, you can roll it into the living room in front of the TV.
Plus, you can use this kitchen island cart if you need extra seating when guests come over. Or, if kids want to sit at their own special table.
On the other hand, if you need a serving table at parties, use this cart! Move it to wherever you need it and flip open the hinged tabletop. Then, you've got a 30″ x 30″ surface to serve drinks, food, snacks, etc..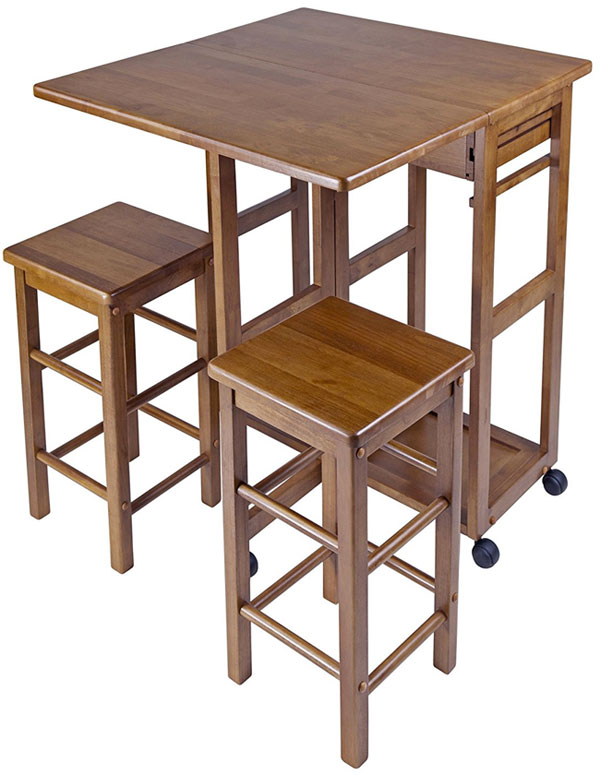 What Happens When You Don't Use this Kitchen Cart?
When not in use, this versatile cart fits snugly against a wall or in a corner. Its simple design and neutral coloring makes it look good with virtually any style of decor.
However, even when not "in use", this mobile kitchen island can still be functional. For example, use the table as extra counter space for snacks, a bowl of fruit or a place to drop your purse.
You can also stick your keys, cell phone or sunglasses in the drawers to keep them safe yet out of the way. Just don't misplace the table. 😉
By the way, you can get this set in Teak or Natural finishes, as well as a square or round shape. See below: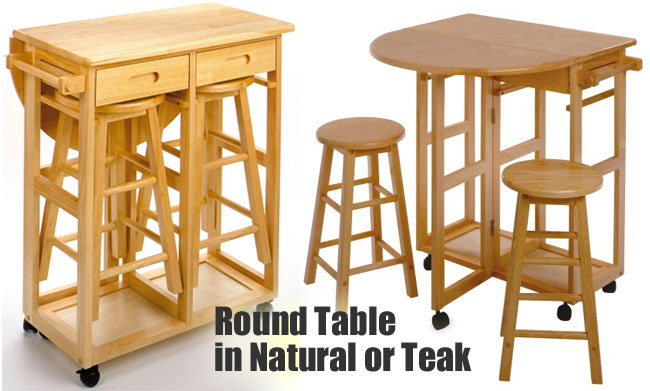 Specs for Winsome Space Saver Kitchen Island Cart with Stools:
Table Dimensions: 32.75″ tall x 29.6″ wide x 29.1″ deep
Stool Dimensions: 20.8″ tall x 11.4″ wide x 11.4″ deep
Weight: 51 lbs
Material: Solid and Composite Wood
2 Color Options: Teak or Natural
2 Tabletop Shape Options: Round or Square
Includes 2 Matching Stools
Includes 4 Caster Wheels (2 locking)
Model #: 39330
Easy Assembly Required (you just need a screwdriver)
About the Manufacturer: Winsome Trading, Inc.
By the way, this kitchen island cart (with stools) makes the perfect movable desk. Sometimes I like to work outside on the patio, and I can roll this cart outdoors and set up my "mini desk" in minutes.