If you want a compact kitchen island that you can actually fold up and stick in your pantry, you will like the Origami Kitchen Cart. See how it folds up in a few seconds: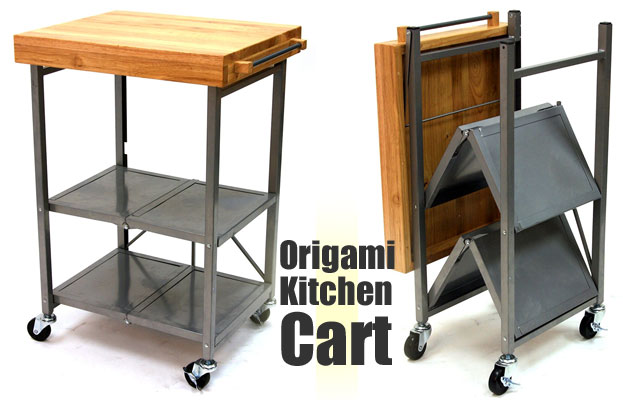 Now, this rolling cart is not designed for everybody. First of all, it has a small tabletop (about 25.5″ wide x 20″ deep). As you can see, it doesn't provide a lot of space for food prep.
Second, it has a "temporary" look – like a cutting board on a frame that rolls. Unless you like the industrial look, you might prefer a kitchen island that has cabinets and drawers.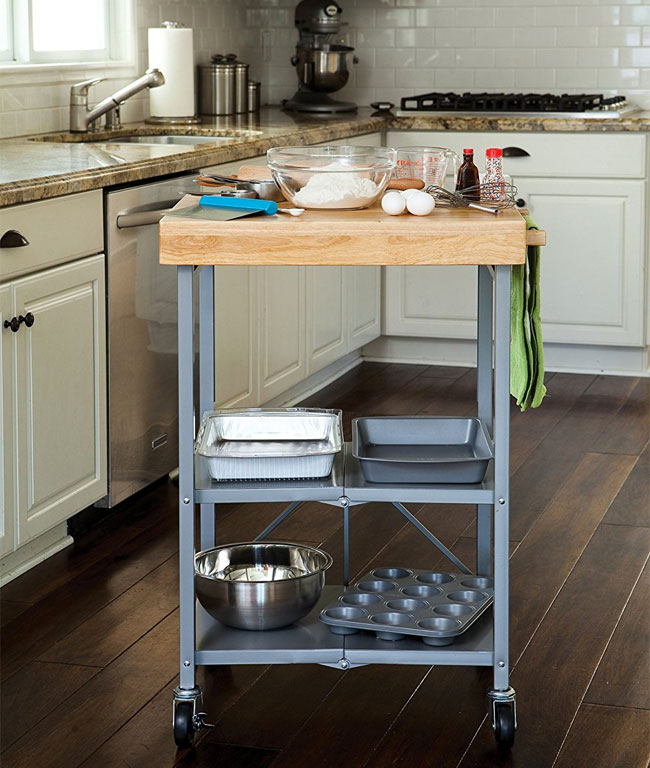 Why Get an Origami Kitchen Cart?
1. Lack of Space
If your kitchen doesn't have a lot of space and you need a rolling cart only occasionally, the Origami might suit you perfectly. Take it out for parties or baking sessions, and roll it out of sight when you're done.
2. Use it as a Grill Side Cart
The Origami Kitchen Cart also makes a convenient side cart to a barbecue or grill outdoors. You can even hang grilling utensils and towels from the attached towel rack.
3. It's Easy to Transport
Because you can fold this cart flat and it only weighs about 40 lbs, you can take it with you. Think tailgaters, camping trips or any activity or event where you might need an extra table with shelves. In fact, you don't always need to use it for cooking or food prep.
4. In Comes Already Assembled
Yes, this kitchen island comes pre-assembled. Just unfold it, and it's ready to use. That's definitely a bonus!
See how easy it is to set up and use in the video below. Plus, ideas for different ways you can use it. It makes a perfect wine cart, and it easily rolls out to the pool where you can use it to serve drinks and snacks.
Note: This kitchen cart is small and doesn't come with any drawers, cabinets or racks that other models do. However, it costs less than $100 and definitely offers lots of versatility.
Origami Kitchen Cart Specs:
Dimensions: 36″ tall x 25.5″ wide x 20″ deep
Weight: 39 lbs
Material: Steel Frame, Wood Top
Comes Already Assembled, Folded Up
Model #: RBT-02
About the Manufacturer: Origami Group, Inc.