Do you want a rustic-looking island for your kitchen without having to spend hours searching through vintage re-sale shops? Burleson Home Furnishings makes a Sliding Barn Door Kitchen Island that you could easily mistake for an old credenza you found in a barn.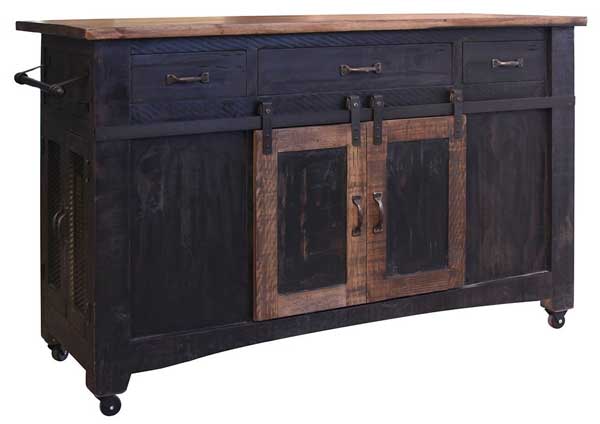 Mobile Island has Lots of Style, But Maybe Even More Function.
In addition to adding major style to your kitchen, you also get lots of storage space and a convenient breakfast bar. Plus, this ultra-functional mobile island provides a great workspace, homework table or dining area in the living room where you can watch TV.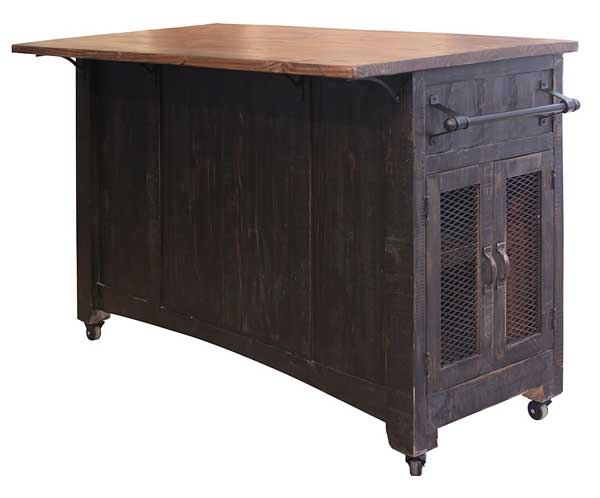 Need extra guest seating for a holiday dinner? No problem! Simply roll this table into the dining room. You don't have to dust off and set up that old card table. You can step it up a little without having to make an effort. =)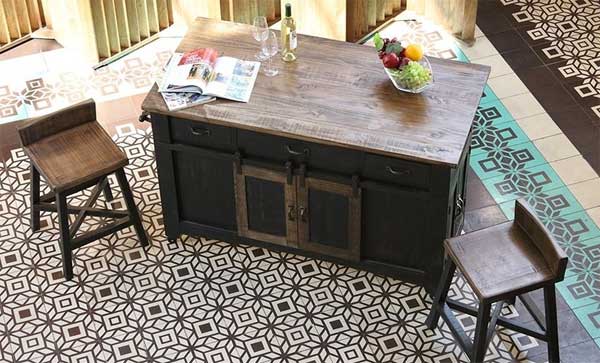 Want to eat dinner outside on the patio and enjoy the sunset? The Barn Door Kitchen Island makes it easy. No need to spend money on an extra table for the backyard.
A Rolling Kitchen Island… Without Wheels?
All that said, you don't even have to attach the casters to this rolling island. In fact, the cabinet design looks just as great without the wheels and has more of a "built-in" look. You can get a better idea of how the island looks without wheels in the photo below: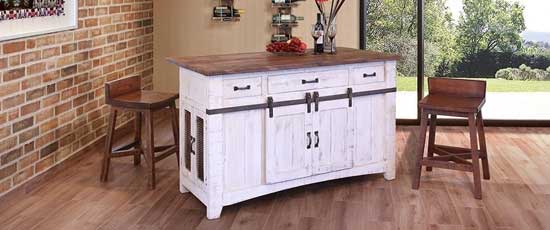 The white version has an advantage over the other 2 darker colors, in that the hardware stands out more. I think this makes it look more rustic, although the lighter shade gives off a more modern country feel.
Barn Door Kitchen Island has Quality Craftsmanship
Even though this hand-made furnishing costs less than a kitchen remodel, it does cost more than some other rolling islands of the same size. For example, the HomCom Kitchen Island only costs about a third of the price. However, you can really see the quality craftsmanship.
The close-up photo below shows the attention to distressed wood detail and hand rubbed finish on the cabinetry. And, the custom-made pulls add that extra designer touch.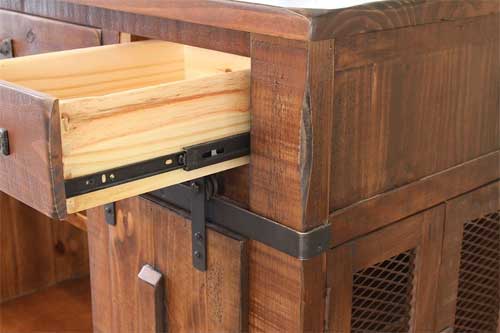 Burleson Home Furnishings definitely makes high-quality furniture. You can even see some of their urban rustic style pieces showcased on the home design site Houzz.
Anton Barn Door Kitchen Island Specs:
Dimensions: 60″ Long x 30″ Deep x 36″ Tall (38″ tall with wheels attached)
Weight: 151 lbs
Material: 100% Solid Wood, Metal Mesh on Side Doors
Shelves are Fixed
Drawers have Ball Bearing Glides
Includes 4 Casters and Side Metal Towel Holder
You can see the complete island dimensions below, including countertop, cabinets and interior shelving.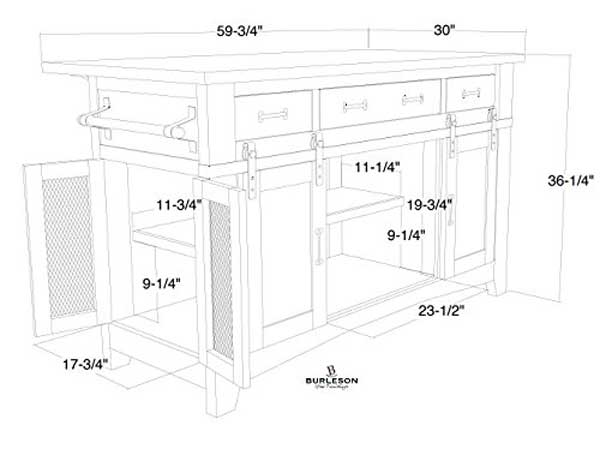 Unique Cabinet Storage Features:
As you can see from the diagram above, the cabinet features three deep drawers plus two sliding doors. You can conveniently access separate storage compartments from the front or sides of the unit.
I like the sliding door design because you don't have to allow extra space for the doors to swing out. Plus, the different sections in the cabinet make it easier to keep items organized and easy to find.
Can I Get Matching Rustic Bar Stools?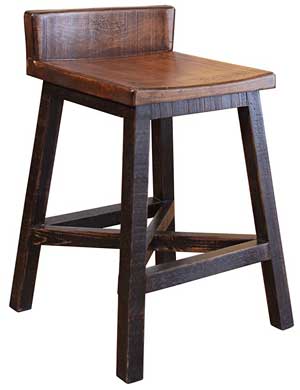 Since this mobile island allows for breakfast bar seating, you might be wondering about matching stools, right?
Well, Burleson Home Furnishings makes some stools that match perfectly. They have a weathered, industrial look, are made of 100% solid wood and built to last. (BY the way, these chairs also come fully assembled.)
They feature low backs with horizontal support beams where you can comfortable rest your feet.
Just like the islands, these stools come in a variety of colors to color coordinate. That said, I think this dark brown and black stained stool works well with any of the island colors.
In addition, you can get them in different heights (between 24″ and 30″ tall). Therefore, pay attention to the height you purchase to ensure you get the size you want.
Stool Weight Capacity: 350 lbs
Dimensions of Stool Shown: 18″ Long x 18″ Wide x 28 3/4″ Tall