Do you want to add more storage and counter space in your kitchen, plus a unique, cool-looking piece of furniture? This vintage distressed kitchen cart makes an impressive statement, not to mention, it's really functional…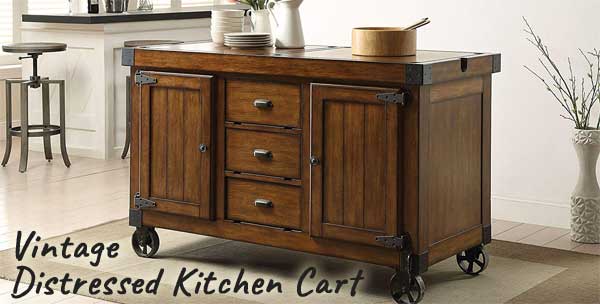 1. This Large Kitchen Cart Provides Lots of Extra Storage:
First of all, this mobile cabinet measures almost 5 feet long. Therefore, you get plenty of shelf and drawer space to keep dishes, glasses, utensils, etc..
Plus, the cupboard design helps keep different items well-organized. And, the enclosed storage keeps everything neatly out-of-sight.
Note: This designer-looking mobile kitchen island sells for over $1,450. However, you can get it on Amazon right now for about half price, only about $730.
2. Caster Wheels Make this Kitchen Island Multi-Functional: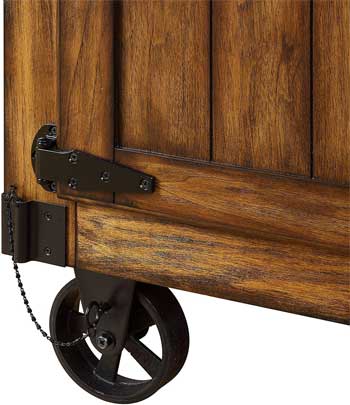 Second, the metal caster wheels allow you to easily move the cart to the center of the rom or against the wall.
For example, you can use your cart as a kitchen island or as credenza or sideboard in the dining room.
In addition, re-organize it into a drink serving cart or a buffet table for parties. The wheels make it simple to roll into the living room for a cocktail party or outside for a barbecue.
In other words, you can get a lot of use out of this one piece of furniture.
I personally love useful furnishings like this, because there's really no limit to the ways you can use them. Essentially, they give you more value that what you pay for them.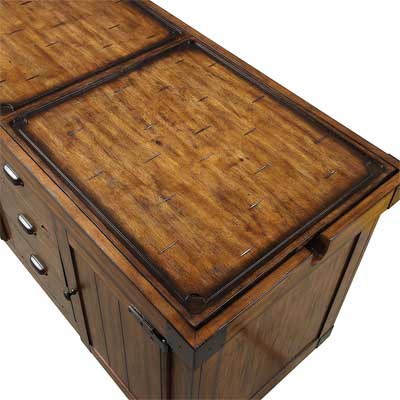 3. Unique Detailing Makes this Vintage Cart Look Like an Antique Find:
Third, I love the antique tobacco stain and distressed finish.
Both features give this mobile kitchen island an elegant aged look that also appears expensive. (Like a one-of-a-kind collector's item.)
Plus, the finishing details and aged metal hardware are quite impressive. In other words, your friends will never guess that you just bought it online and had it shipped to your house for under $1,000.
Note: Unlike many kitchen carts, the vintage-style Kabili does not have towel rods on the ends. Although you can't hang towels or utensils from it, the design makes it look more like an upscale cabinet
If you want a way to upgrade your kitchen without spending a lot of time or money, (or hiring a contractor, for that matter), this vintage style storage cart provides the perfect solution.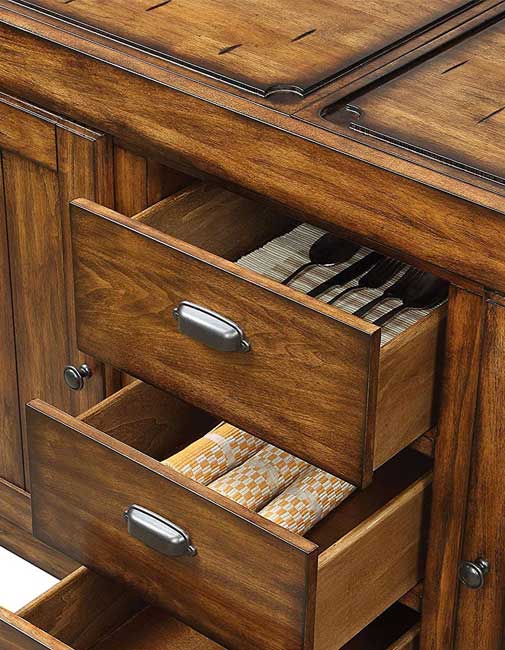 Vintage Distressed Kitchen Cart Specs:
Dimensions: 57″ Long x 22″ Wide x 36″ Tall
Weight: 172 lbs
Material: Wood, Casters, Veneer (Wood), Composite Wood
Finish Color: Antique Tobacco
Includes 4 Caster Wheels
Model # 98186 (Kabili)
Brand: Acme Furniture
Phone: 1-800-392-8168
For Sale: Where to Buy the Kabili Cart