Need an industrial-strength mobile island that can take on multiple tasks at once? The New Age Stainless Steel Outdoor Kitchen Cart can serve drinks, chill food, store ice and more…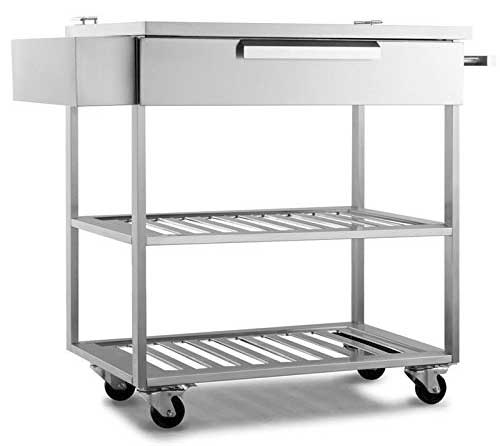 By the way, this ultra-durable rolling cart can venture outdoors and handle frequent use. Plus, if things get messy, you can simply hose it down when you're done using it. Talk about low maintenance!
This Stainless Steel Cart Adds Style Everywhere it Goes
I am a big fan of stainless steel appliances, fixtures, cabinetry hardware and home decor. Not only does this metal finish look clean and sleek, but it also seems to go with everything.
This makes me like the stainless steel outdoor kitchen cart even more. Not to mention, the commercial design make this piece timeless. In other words, you don't have to worry about it going out of style any time soon. =)
For example, if you already use stainless steel in your kitchen, you can easily match them with this rolling cart. On the other hand, if your appliances don't have a stainless steel finish, this cart doesn't look out of place.
Kitchen Cart Has Drawer, Trays, Bucket, Bins and Shelves…
I also like the fact the the pull-out drawer includes removable trays. This makes for easy refilling of food, drinks or ice, but also effortless cleaning.
In addition, the side "bucket" securely holds tall bottles. Therefore, you can worry less about bottles falling off the cart (but still have them within easy reach). Plus, you get more tabletop space for mixing cocktails or serving food.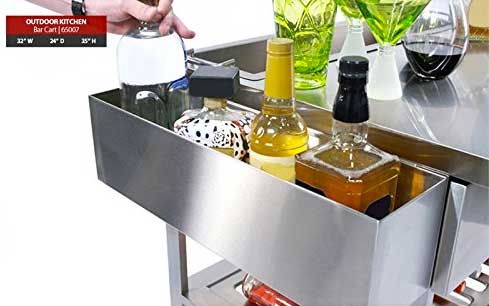 Speaking of drinks not spilling, the 2 lower shelves can double as bottle racks if you need them. Alternatively, you can use the shelves to store plates and silverware, cups, additional snacks, a trash bin and more.
Use this Mobile Island to Prep Food – or Serve Guests
However, you don't have to use this drink cart as a, well, drink cart. It also makes a handy food prep station by the grill. In fact, you can use it while you grill dinner, and then roll it around to serve guests. No carrying of food required!
Check out this video below to see what I mean:
What this Rolling Island Doesn't Have:
You don't get enclosed storage cabinets, so you can't hide messes. In addition, the table surface doesn't give you as much space as other models that can measure 47″-57″ long. Furthermore, you don't get a flip-up table that lets you use this cart as a breakfast bar.
You may not care. But if you do, the HomCom Rolling Island offers all 3 of these advantages, except without the stainless steel.
Specs for Stainless Steel Outdoor Kitchen Cart:
Dimensions: 32″ Long 24″ x Wide x 34″ Tall
Weight: Approximately 72 lbs
Material: Extra Strength 304 Stainless Steel (Restaurant Grade)
Weight Capacity: 230 lbs
Includes (4) 3″ Rolling Casters
Model #: 65007
Manufacturer: NewAge Products, Inc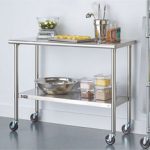 By the way, if you like the commercial metal look, you may also like this stainless steel kitchen island. It looks more like a rolling table, and it doesn't come with a drawer, trays and buckets. However, it costs about half as much and provides a little more surface area (48″ long vs 32″ long).