Do you want a multifunctional kitchen cart that can also hold a microwave? This mobile microwave cart with storage shelves can conveniently hold a bunch of dishes and glassware. (Not to mention take your appliance off of the counter!)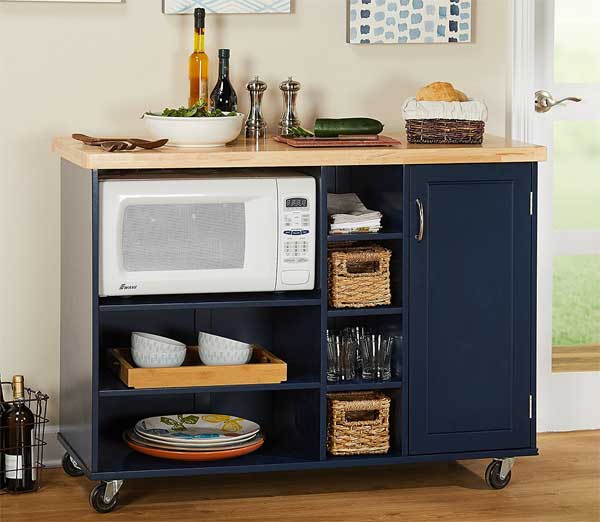 Different Ways You Can Use this Mobile Kitchen Cart:
1. Easily Clear Clutter in the Kitchen
Use this rolling island to clear away clutter in your kitchen and add more storage at the same time. Now, you don't have to spend a bunch more time and money building more cabinets. =)
Multiple shelves with varied sizing make it easy to organize utensils, dishware and other small gadgets. Not to mention, you can keep them within easy reach.
2. Make Entertaining Easier on Yourself
Second, you can use this rolling unit as a wine cart or serving table at parties. This handy piece of furniture can perform various entertaining tasks on top of being useful for everyday use.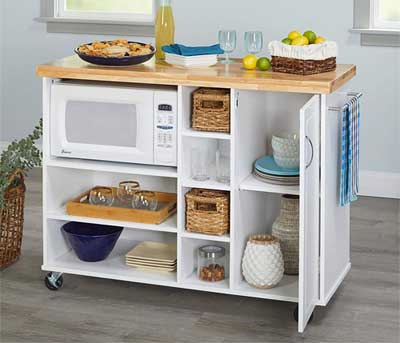 3. Make Kitchen Items Easier to Access When You Need Them
For instance, a breakfast bar can store cereal bowls, coffee mugs, spoons, napkins and dry foods. Alternatively, a cocktail cart can hold wine glasses, cocktail napkins, drink bottles and snacks.
Furthermore, you can roll this kitchen island on wheels outside next to the barbecue. You can use it to place food, sauces and plates while you're grilling.
4. Make the Most of Your Kitchen Square Footage
This cabinet's compact size lets you push the unit against a wall without taking up much space in your kitchen. And, the back panel has a cord cutout, so you can discreetly plug your microwave into a wall outlet.
Note: You can gain lots of countertop space by removing small appliances and miscellaneous items, plus this cart provides an extra 7+ square feet of counter space!

This extra table comes in handy as a breakfast bar, for food prep or to serve guests during parties.
Who is this Microwave Cart Designed For?
These rolling microwave carts work really well for people who rent apartments or move frequently because you can take them with you. Plus, they give you an easy way to instantly remodel your kitchen without spending a lot of money.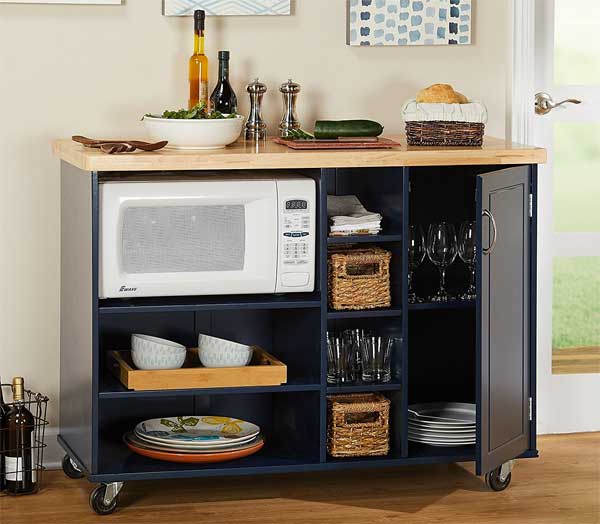 This mobile utility cart actually does more than just increase the functionality of your kitchen area. It features a casual, contemporary style that can upgrade the look of your space too.
Moreover, you can use this cabinet on wheels in a home office, bedroom or den to provide additional storage virtually anywhere. I mean, due to its generic and minimal styling, you don't have to use it only in a kitchen.
Specs for Mobile Microwave Cart with Storage:
Cart Dimensions: 48″ Wide x 20″ Deep x 36″ Tall
Microwave Shelf: 22.5″ Wide x 18″ Deep x 13.7″ Tall
Countertop Material: Solid Rubberwood
2 Color Options: White or Navy Blue
Includes Side Towel Rod
4 Wheels, 2 Locking
Assembly Required
Pros & Cons of this Rolling Microwave Cabinet:
Compared to other rolling kitchen islands, you don't get much enclosed storage cabinets or pull-out drawers. However, this keeps the price low while still providing plenty of storage space.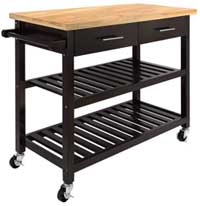 Unfortunately, the microwave storage hutch doesn't fit all models of microwaves. That said, you can use it for other small electrical appliances instead, like a toaster or coffee maker.
By the way, if want to save some money and don't mind open shelving on your kitchen cart, consider the Homegear Open Storage V3. It has a more versatile design to accommodate different sized microwaves and costs about half the price of the model above.