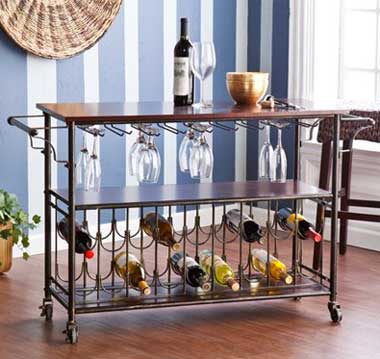 Do you want a multi-functional wine cart on wheels for entertaining at parties?
Not only can these rolling tables provide storage and serving space, but their mobile aspect makes them much more versatile.
Plus, these carts can work as a wine rack or storage case when you're not actively using them at parties. The long, narrow design also allows the table to fit snugly against the wall without getting in the way.
They definitely have character and are interesting to look at, which I think makes them a better value as far a furniture goes.
2 Industrial/Vintage-Looking Wine Carts that are a Bargain…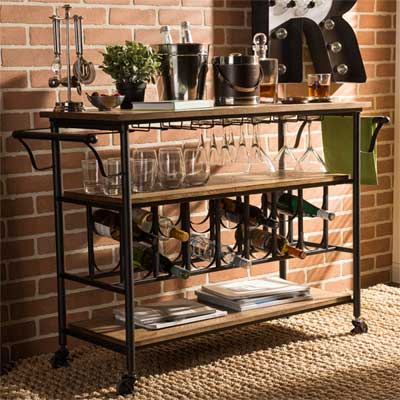 I found 2 affordably-priced wine carts that run between $150 and $200 each.
That said, they each include rustic, industrial features that make them more unique and charming. In other words, I think they look more custom, chic and expensive than their actual cost. =)
For example, the Bradford serving table on the left has an antiqued black textured metal frame with distressed wood veneer. However, the manufactured wood shelving and assemble-yourself construction help to keep the cost low.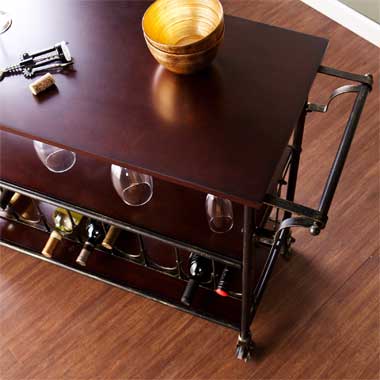 Alternatively, the Roland rolling bar has smooth, more refined shelves with a vintage-looking black and brushed gold frame.
As you can see, these 2 carts look very similar in design and construction. In fact, they have virtually the same dimensions.
Having said that, the Roland cart gives you more space to stow wine bottles and hang glasses. On the other hand, the Bradford cart exchanges less rack space for an additional shelf. Take your pick!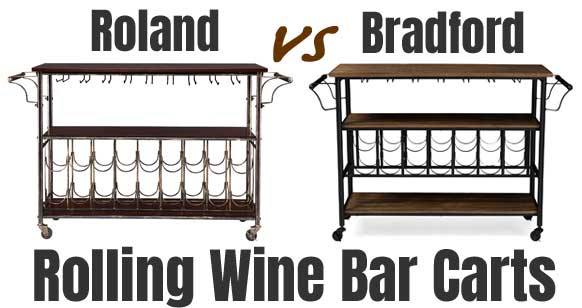 Similarly, they both come with rolling casters, so you can easily move them around your house. (By the way, you can lock them in place.) You can even take them outside for a backyard barbecue or garden party.
Roland Wine Bar Cart Specs:
Dimensions: 48.5″ Wide x 17″ Deep x 29.25″ Tall
Material: Iron, MDF Composite Wood
Color: Espresso Shelves, Black Frame
Bottle Capacity: 18 Bottles
Hanging Glass Capacity: 18-22 Glasses
Top shelf supports up to 60 lbs
Middle shelf supports up to 30 lbs
Includes Locking Casters
Assembly Required
Model #: WM965222
Manufacturer: Southern Enterprises
Phone: (866) 216-1071
Note: Because both of these units have open storage, they can collect dust more easily. Not to mention, they can add clutter if you don't keep shelf items neat. Just something to keep in mind.
Specs for Bradford Wine Cart on Wheels: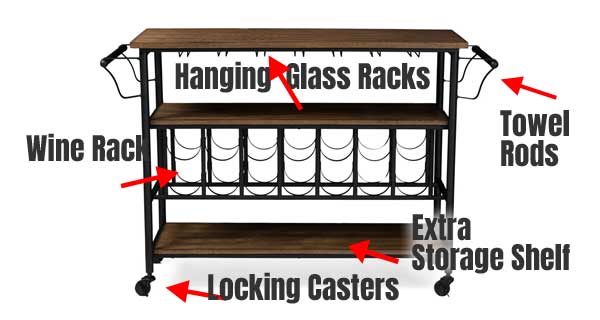 Dimensions: 47.8″ Wide x 17.5″ Deep x 32″ Tall
Material: Wood, Composite Wood & Metal
Color: Antique Black
Bottle Capacity: 14 Bottles
Hanging Glass Capacity: 18 Glasses
Includes Locking Casters
Assembly Required
Model #: YLX-9044
Manufacturer: Baxton Studio
Phone: 800-517-0717
Note: Even if you never use this kitchen cart for serving guests, I think it makes a unique and stylish addition to the kitchen. Not to mention, you get storage and a display case in one piece of furniture!