Do you want a rolling wine cart with storage and function that you can use to serve drinks? The Sallos Buffet Cabinet with Wheels has a classy look of a sideboard cupboard, yet you can move it around during parties…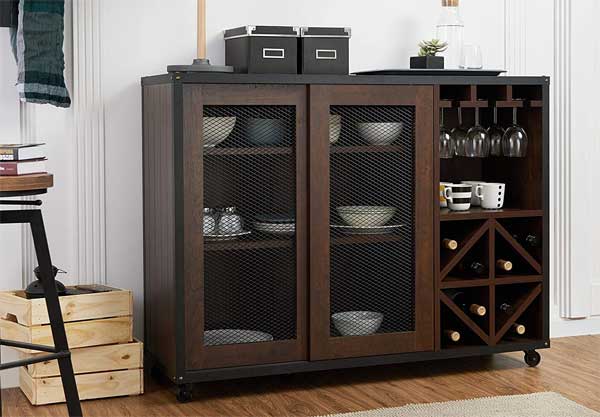 Rolling Sideboard Cabinet Gives You a Lot for Your Money…
As you can see, the tall, long and narrow design provides lots of storage for wine bottles glasses, dish ware and more. However, the unit does not stick out far from the wall when not actively in use.
Note: In other words, you get a lot of functionality with this piece of furniture, yet you don't have to give up much floor space. Plus, for under $300, you can get a lot of use out of this wine storage cart.
In fact, if you throw frequent social events and have the wall space, you might consider getting 2 and keeping them side by side. They'd make an elegant-looking long credenza, don't you think?
Rustic, Industrial Styling Give this Wine Buffet a Unique Look:
For an inexpensive wine cart made of faux wood, the manufacturers sure gave it some nice detailing. For example, the sliding cabinet doors feature a dark wood-look trim with industrial wire mesh faces.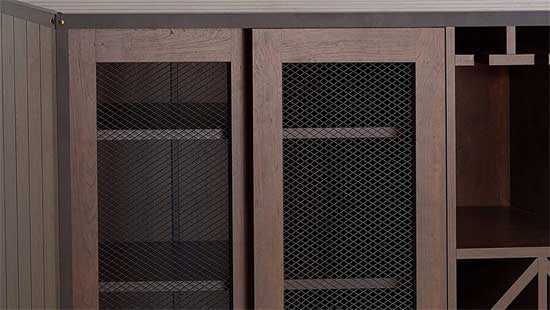 Plus, this sideboard buffet has industrial metal accents to give it more rustic look. On top of the mesh door inserts, the cabinet features corner braces, nail head trim and commercial-looking caster wheels.
In addition, the sides of the buffet look slightly like bead-board paneling. I think that this subtle design feature adds to the industrial look while still keeping with the contemporary feel.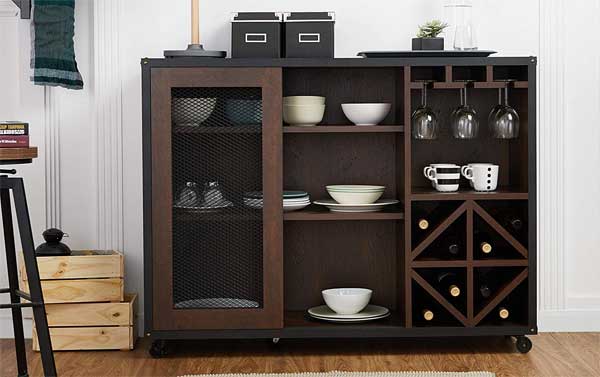 You May Not Like About this Wine Rack/Buffet Table on Wheels: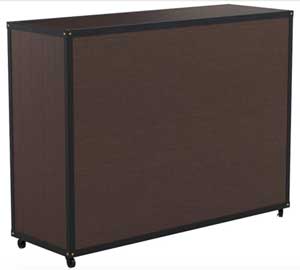 First of all, the back side comes somewhat unfinished. In other words, the manufacturer claims it is unfinished, but some customers think it looks finished.
Therefore, if you want to roll it away from the wall where the back is exposed, you may want to finish the back. Or not! You can see how it looks on the right.
Second, you can see through the mesh cabinet doors. Therefore, you can't really hide messy shelves. That said, if you keep items neatly stacked, this shouldn't pose a problem.
Third, if you use stemless wine glasses, you may end up with a lot of wasted space. Stacking dishes could be an option However, the open shelf could lead to some unfortunate accidents if you roll the cart around.
Specs for Buffet Cabinet with Wheels:
Dimensions: 47″ Wide x 36″ Tall x 16″ Deep
Weight: 108 lbs
Material: Particle Board, Wood Veneers
Buffet Top is Water Resistant
Color: Vintage Walnut
Wine Rack Can Hold 8 Bottles
Assembly Required
Model #: HFW-15700C6
Brand: Homes Inside & Out
Phone: 888.980.5122
Buffet Cabinet on Wheels VS Wine Bar Cart?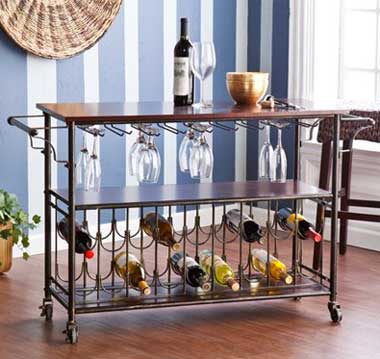 Do you prefer more of a rustic, vintage look to your wine cart? The Roland Wine Bar Cart features even more bottle and stemware racks in an "open cabinet" design.
However, you trade in the enclosed shelves for more rack space. I guess it depends on how thirsty your guests are, right?
Both wine serving carts can provide a unique style to virtually any space and provide a lot of function and storage.
That said, the Roland metal frame cart will save you about $100.