Do you want more storage and counter space in your kitchen without having to pay for an expensive remodel? You can get both style and function with a modern farmhouse style kitchen island, plus you can get everything for only about $500.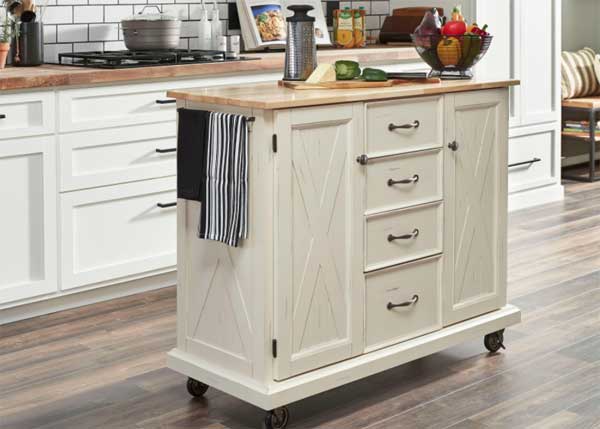 Advantages of this Mobile Kitchen Island:
Not only do you get a multi-functional kitchen island, but you can roll it around too. Therefore, you can use it for food prep, a drink cart, a serving table and more.
Furthermore, you can push it out of the way and against a wall if you need more space. Now, how many kitchen islands can you say that about?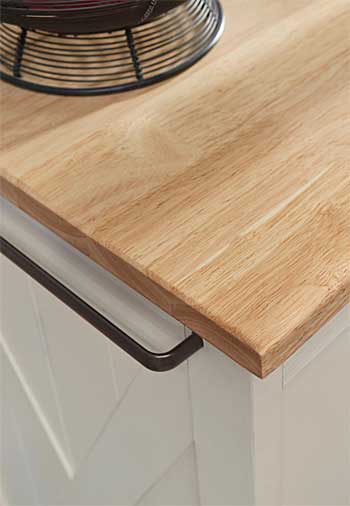 Not to mention, your kitchen now has 4 more drawers and 2 extra cabinets with 4 shelves. You've just gained a bunch of storage and minimized kitchen clutter at the same time.
The shape of this kitchen cart is strategically designed to be long and narrow. As a result, you don't have to have a large kitchen for this unit to fit.
In addition, multiple people can use the countertop at the same time. Plus they can access it from different sides simultaneously.
In other words, this rolling kitchen island has made very efficient use of space. If your home doesn't have lots of space for cooking, you'll totally appreciate this.
Note: The kitchen island comes with 4 options for countertops. You can choose from 2 colors of granite, stainless steel or natural wood. All materials are hard-wearing, and you can get the style that works best for your kitchen.

Disadvantages of this Kitchen Cart:
One downside of this piece is that the cabinetry only comes in the distressed off-white finish. Therefore, if you have bright white cabinets, this island may not fit in.
Another reason why you may not like this kitchen island is that it doesn't really double as a breakfast bar. In other words, it doesn't have a side table that flips up (like this one) so you can use it as a table.
This Modern Farmhouse Cart Will Make Your Kitchen Look Cool:
Of course, we can't overlook the style of this piece, which can give an instant upgrade to many kitchens just by itself. The cabinets have a unique distressed finish and antiqued hardware, plus the unit is finished on all sides.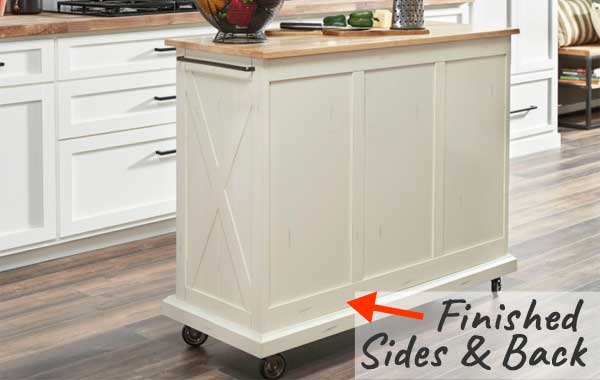 Its name, the "Seaside Kitchen Cart", implies casual beach cottage flair. However, this island on wheels would fit perfectly with modern farmhouse decor as well.
Specs for Farmhouse Style Kitchen Island:
Dimensions: 45.25″ Wide x 16.25″ Deep x 35.5″ Tall
Material: Hardwood + Engineer Wood
Cabinet Color: Off White
Distressed Finish: Hand Rubbed with Sanded Highlighting
4 Top Styles: Wood, Stainless Steel, Black Granite, Salt/Pepper Granite
Antiqued Nickel Finished Hardware
Includes 4 Caster Wheels, 2 Locking
Assembly Required
Model: Seaside
Manufacturer: Home Styles Furniture
Phone: (888) 680-7460
3 Ways You'll Like Your Kitchen More, with a Rolling Island…
In short, this "portable" kitchen island can bring a lot of value to your cooking space – without costing much money. Plus, it can make cooking and entertaining easier and more convenient.
And for many people, having more storage so they can get rid of countertop clutter makes this farmhouse style kitchen island so worth it.