Do you like the vintage look of a farmhouse style kitchen – yet you enjoy working on a clean, modern steel counter? Well, Bowery Hill makes a kitchen cart with stainless steel top that gives you the best of both worlds.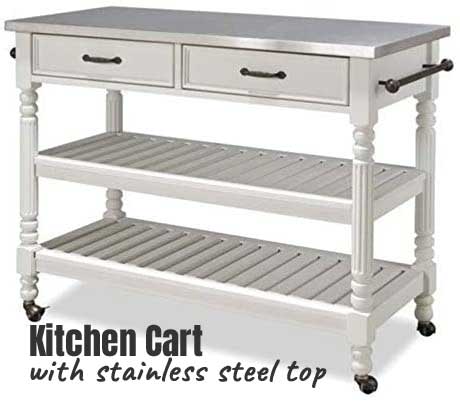 This Farmhouse-Style Cart has Many Uses:
This mobile cart is also large enough to double as a kitchen island, so you can get a lot of use out of it. Not to mention, this rolling cart offers more storage than a commercial style stainless table.
Note: On top of that, the 2 slatted shelves can work as wine racks. So, you can use this space for decorative storage or turn your kitchen island into a wine cart for parties.

Whether you use this unit as a portable kitchen island or a rolling cart, the drawers always come in useful. They offer the perfect spot for utensils or to stash small kitchen gadgets that tend to get lost.
And don't overlook the 2 towel bars at either end of the stainless steel tabletop. They provide the perfect spot for towels or frequently used cooking utensils. (Easily accessible, yet out of the way and not taking up valuable counter space.)
The locking caster wheels keep the cart securely in place when you need a stationary food prep space. On the other hand, you can unlock the wheels and roll the table across the room, to another area or even outside.
Customize the Look of Your Kitchen with a Vintage Style Cart: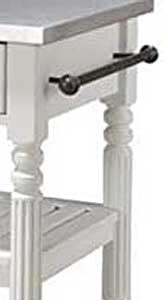 Compared to most kitchen carts that have a plain, contemporary design, this model features a more vintage look.
For example, the posts have unique decorative carvings. Plus, the drawer pulls and towel bars have an aged bronze finish.
Furthermore, the white-painted finish is done in a multi-step process. In other words, this piece has a more refined look that fits well in an upscale kitchen.
Note: Bowery Hill makes a similar stainless steel top cart with a wire brushed weathered wood finish. It has 1 slatted shelf and 1 regular shelf, which may work better for some people's storage needs.
Specs for Kitchen Cart with Stainless Steel Top:
Dimensions: 47.25″ Wide x 20.5″ Deep x 36″ Tall
Weight: 101 lbs
Material: Solid & Engineered Wood
Tabletop: Stainless Steel
Adjustable Center Shelf
Hardware: Antique Bronze
Color: White
Includes Locking Caster Wheels
Assembly Required
Product #: 1580101-875531
Brand: Bowery Hill
For Sale: Where to Buy the Kitchen Cart
Note: By the way, if you like vintage farmhouse style but prefer natural wood or a darker color, check out the Crosley Roots Rack Kitchen Island.

It comes with similar open slat shelves, double drawers and towel holders. However, it has a more rustic, industrial look and features a wood top versus the stainless steel.