Do you want a mobile cabinet with cutting board top that you can use for serving drinks or pressing food? The Averi Kitchen Cart with wheels can handle multiple jobs while it provides ample storage space.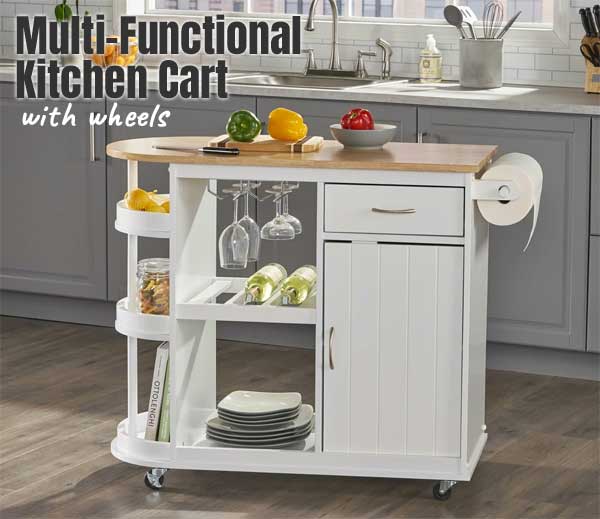 3 Ways to Use a Rolling Kitchen Cart with a Cutting Board:
1. First of all, you can use this multi-tasking kitchen island as daily food prep station for your meals. Not only does it give you additional counter space, but the natural rubberwood top gives you a built-in mobile cutting board.
2. Alternatively, the Averi makes a convenient serving cart, with holders for wine glasses, wine bottles and more. You can roll it out of the kitchen for parties, and it can hold dishes, utensils, napkins, drinks and food all in one spot.
3. Furthermore, this island on wheels makes the perfect partner to an outdoor grill. It gives you a cutting board where you need it, plus paper towels, seasonings, utensils and more.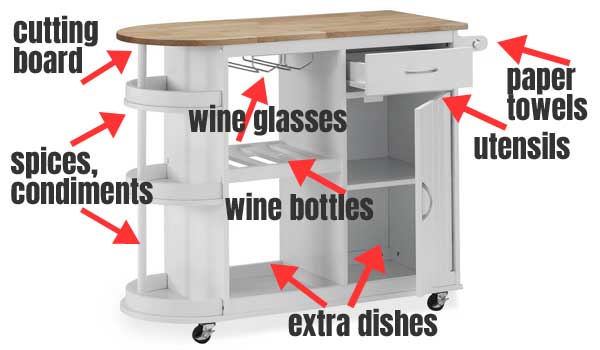 In other words, this kitchen cart on wheels can come in handy in multiple ways. Not to mention, it has a clean, neat style that helps you keep items organized and your kitchen less cluttered.
While this island can do quite a lot, it actually has a compact size that works well for smaller kitchens. Even with the drawer, cabinet, shelves and racks, it measures under 4 feet long by 18″ wide.
Note: Two of my favorite features of this mobile cart are the built in wine rack and bottle shelf. They give this rolling island that fun look, plus it keeps you wine glass readily available when you need it for cooking. =)
You Can Get the Cart in Black as well as White: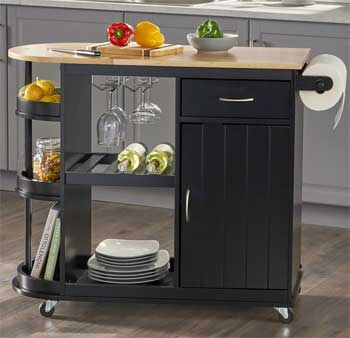 This rolling utility comes in a black finish as well as white. If you worry about a light-colored cart showing dirt, the black can work in your favor.
In addition, the darker finish can act as a nice contrast to your kitchen cabinets or countertop. Plus, it can help bring out dark hardware or faucets in your kitchen.
Note: If you want a mobile cart that provides space for a trash bin, I suggest looking at the Baxton Studio Butcher Block Island. It has a very similar design, but the cabinet shelf slides out so you can fit taller items like a small trash can.
How to Make the Most of the Rubberwood "Butcher Block" Top:
The Averi Kitchen Cart features a large rubberwood cutting board that resembles a butcher block top. It has a natural light wood grain finish and lots of space for kitchen prep work.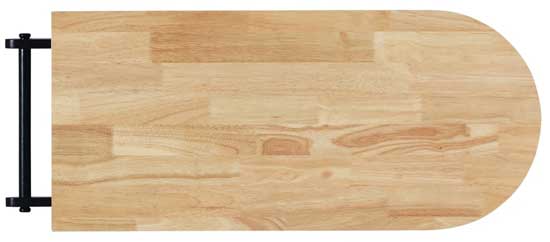 According to the Green Home Guide, rubberwood is very durable wood due to its high grain density. In fact, it performs very much like teak.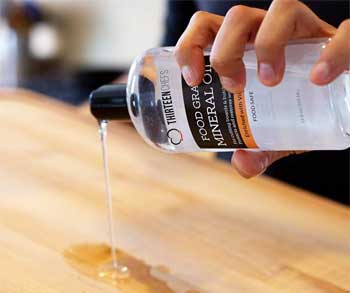 In addition, it naturally resists fungus and mold. Consequently, it makes an ideal cutting board surface
Just like any kitchen cutting board, you want to protect the wood by using a food grade mineral oil. This hydrates the wood and protects it from cracking, plus oiling your board gives it a clean rich look.
At only about $10-12 a bottle, a little mineral oil goes a long way and can last several years. So, it gives you an inexpensive way to extend the life of your countertop
Specs for the Averi Kitchen Cart with Wheels:
Dimensions: 43″ Long x 34.5″ Tall x 17.75″ Deep
2 Color Options: White or Black
Top: Rubberwood in Natural Grain Finish
Includes Caster Wheels
Assembly Required
Model: Averi
Brand: GDF Studio
For Sale: Where to Buy the Averi Cart
Note: Do you like the look of this cart but prefer one with a drop leaf for a breakfast bar?

The Catskill Craftsmen rolling utility cart offers a good amount of storage space, plus an extendable top where you can pull up stools.