The Homegear Open Storage Kitchen Island features a contemporary look with spacious shelving for storing small appliances, mixing bowls, cookbooks, jars or other storage containers.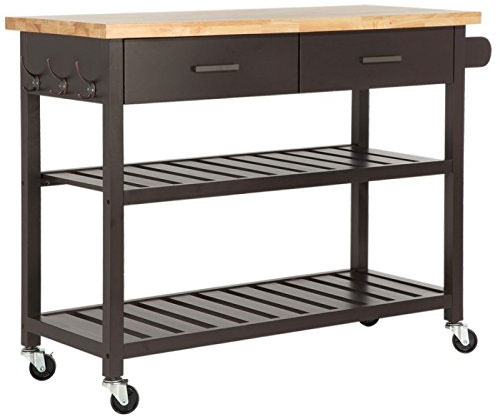 This style of kitchen island works well for chefs who want to keep cooking items within reach and easily accessible. However, people who want extra storage space without having to keep it neat and tidy usually don't like having open shelving.
1. My Trick for Concealing Kitchen Clutter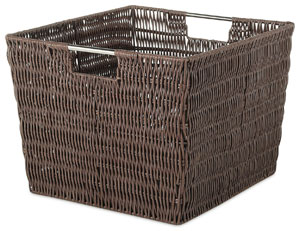 That said, you can take advantage of modern open shelving design without making your kitchen look more cluttered. The solution is to use slide-out baskets. Whitmor makes a Rattique Storage Tote, which fits in the kitchen cart and helps conceal any clutter you might have.
In addition, the baskets have a classic woven look – yet they are made with durable and waterproof plan resin. This makes them ideal for kitchen use, while still looking stylish. On top of that, you can get these storage baskets in 10 different neutral and earth-tone colors.
2. Middle Shelf Not Adjustable, But…
Unfortunately, you cannot adjust the height of the middle shelf. It is stationary. However, if you like a weathered wood vintage look, the Sonoma Rustic Kitchen Cart has a similar design with an adjustable shelf.
3. About the Butcher Block Surface:
The top rubberwood butcher's block is heavy duty and can be used as a cutting board. However, many people decide to use their own cutting boards in order to keep the tabletop surface looking newer and with less "scuff marks".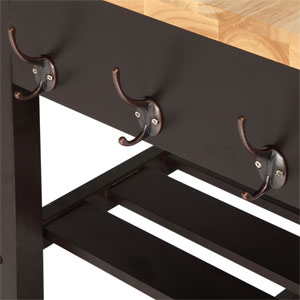 4. Coat Hooks?
Unlike other rolling kitchen carts, this one features 3 unique double hooks on the side.
They make a great spot for hanging towels, grilling utensils, oven mitts, pots/pans or even coffee mugs.
Of course, you could always hang a short coat there too.
Homegear Modern Kitchen Island Cart Specs:
Dimensions: 47″ long x 35.5″ tall x 19″ deep
Countertop Dimensions: 43″ long x 19″ wide
Shelf Height: 15″ High
Weight: 72 lbs
Weight Capacity: 200 lbs
Material: Sustainable Hardwood, Solid Wood Frame
Tabletop: Rubberwood, 1.2″ Thick
2 Color Options: White or Brown
3 Models: Open Storage, Utility and Compact
Includes 4 Casters, 2 Locking
Model #: DCIH-1031
Assembly Required