Do you want an island to your kitchen with more storage… that can double as a mobile serving cart for parties? This spacious rolling kitchen island with wine rack can do it all!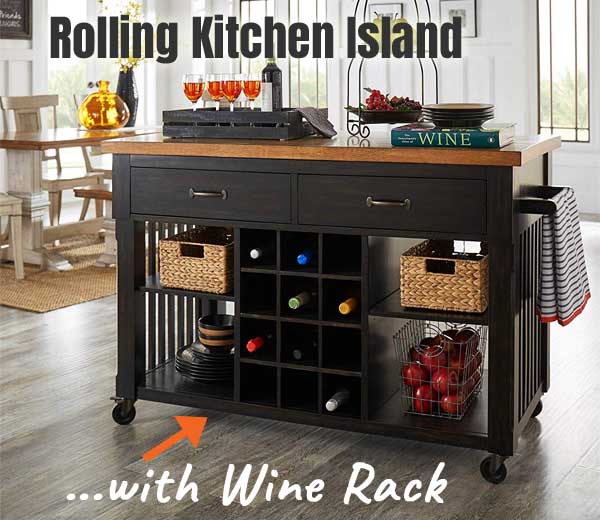 1. Get Extra Counter Space in Your Kitchen:
First of all, you get a large countertop space that measures over 4 feet long by 2 feet wide. These dimensions supply plenty of valuable workspace for food prep. Plus, the slim shape allows the island to fit in smaller kitchens too.

Furthermore, you can move the unit against a wall like you would a cupboard when you're not preparing food. This way, you can open up space in the kitchen for other purposes.
2. Get More Storage Without an Expensive Remodel:
Second, this kitchen island/cart provides lots of useful storage. The 4 large open shelves make items easy to find and easily accessible from both sides of the cart. These work great for storing small appliances, dishes or even baskets of snacks.
In addition, the deep drawers keep smaller items within easy reach while staying neatly out of sight. For example, utensils, napkins, bottle openers or other serving items.
3. Transform Your Kitchen Island into a Serving Cart at Parties:
Third, the built-in wine rack stores wine bottles conveniently where you need them for parties. Plus, you can pour drinks on top and store extra glasses underneath.
Note: Not to mention, the unique wine bottle rack display gives your mobile kitchen cart a fun, upscale look.
4. Mobile Kitchen Island is Much More User-Friendly: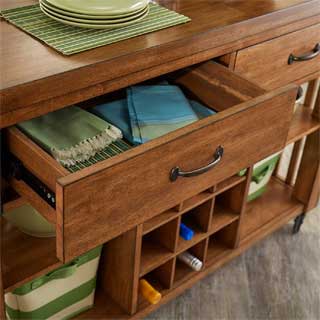 Finally, this kitchen island on wheels can move wherever you want it in seconds. Therefore, you can take advantage of extra counter space when you need it. Then, quickly roll it out of the way when you're done.
Alternatively, you can keep your rolling kitchen island permanently in the center of your kitchen, The locking metal casters simply add to the style and charm of this piece.
Note: Compared to building a kitchen island or adding more cabinets in a kitchen remodel, this kitchen upgrade can save you money! Not to mention, you can use this versatile piece of furniture as a serving cart for all your parties and holiday gatherings.
On the other hand, you can use this kitchen island table with wine rack in your dining room. As you can see, it makes a convenient buffet table for serving guests.
Unique Vintage Finish Gives Two-Tone Kitchen Island Character:

Besides its functionality, this kitchen island has lots of character and style. Although it features a classic, timeless design, the distressed finish gives it that unique vintage farmhouse appeal.
In other words, it could easily become the focal point in your kitchen. (Or, at your party for that matter!)
Specs for the Rolling Kitchen Island with Wine Rack:
Dimensions: 52″ Long x 28″ Deep x 36.6″ Tall
Drawers: 18.4″ Wide x 15″ Deep x 4.1″ High
Shelves: 15.2″ Wide x 22.8″ Long
Wine Rack Holds 12 Bottles
2 Shelves are Adjustable
Material: Rubberwood with Oak Top
Finish: Antique, Oak Finish
6 Color Options: Black, Oak or Antique Blue, Green, Grey, Red
4 Rolling Casters on Bottom
Assembly Required (assembly instructions)
Model #: Eleanor Two-Tone
Brand: Inspire Q
Want Kitchen Island Seating?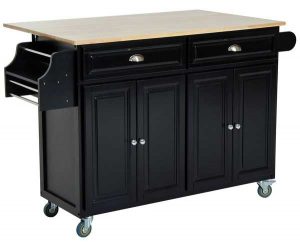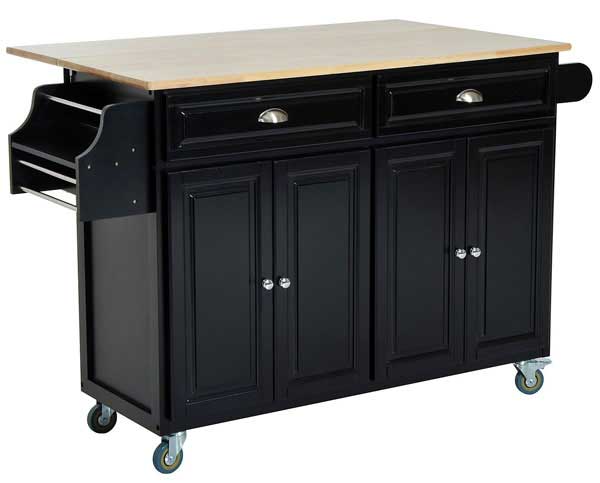 Unfortunately, this kitchen island design doesn't include a flip-up top with room for seating. If you'd like an island with a breakfast bar, check out the HomeCom Rolling Island. However, you'll have to give up the wine rack.
On the other hand, you could opt for the smaller Phoenix Kitchen Island on Wheels that includes a wine rack and stools. That said, this compact mobile cart is more of a table than a island cabinet.