1. Kitchen Island is Designer-Looking Without Being Expensive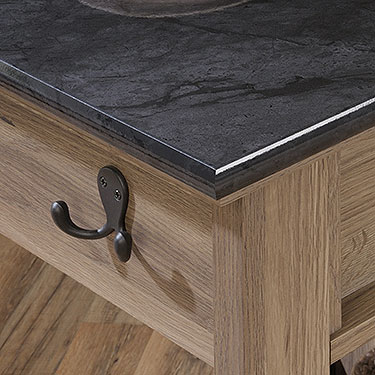 Functionality is great, but looks matter too. The weathered salt oak finish along with the dark slate-look top give this kitchen island a designer appeal.
In addition, the cart has finished shelves/cabinetry on all sides, making it look good from all directions. This piece definitely looks better in the center of a kitchen rather than up against a wall.
However, instead of using real slate and solid wood, Sauder uses an eco-friendly engineered wood along with faux slate to lower the cost significantly. Plus, you assemble the unit yourself, so shipping costs nothing.
2. The Cart Looks Good… AND It Holds Up to Kitchen Use.
The faux slate tabletop includes a protective top coat called Eversheen. It makes the table surface heat, stain and scratch-resistant, so you don't have to worry about ruining it when you use it.
That's right, you don't have to pay a high price for furnishings that look expensive. Of course, this is not always true, but Sauder is known for producing furniture that customers like.
Note: The biggest complaint that I've heard is that sometimes the assembly process can be challenging (ie missing screws). That said, customers still end up giving the Sauder Rolling Kitchen Island a high rating.
3. You Get Efficient Storage, for a Mobile Kitchen Cart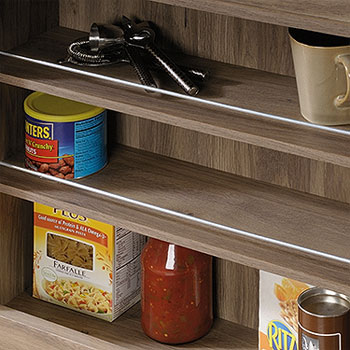 The Sauder Mobile Kitchen Island has a unique set-up, enabling it accommodate lots of different items. In other words, I think it provides efficient storage space.
You get 2 drawers, a large closed cabinet, 3 smaller shelves, a large open storage space and 2 double hooks. This design gives you the ability to store items of various size, plus keep smaller items well organized and easily accessible.
The open side of the cart can also fit a small trash basket, that can be very convenient while doing food prep. On the other hand, you can use this space to display cookbooks or store small kitchen appliances.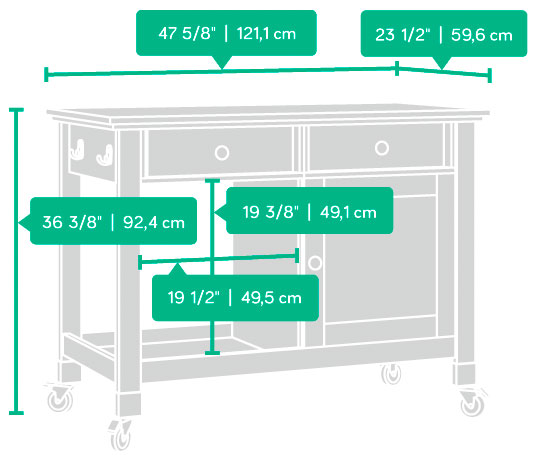 I think that this kitchen cart blends well with light or dark painted cabinetry. Try to match it to natural wood cabinets, and I think you are up for a real challenge.
I also like this island as a drink cart or to provide linen/dish storage in a dining room. However you decide to use it, don't forget that you can roll it around and use it in multiple ways to get even more value out of it.
Sauder Mobile Kitchen Island Specs:
Dimensions: 48″ long x 23.5″ wide x 36″ tall (including casters)
Weight: 158 lbs
Cart Color: Salt Oak Finish
Tabletop Finish: Faux Slate with EverSheen®
Material: Environmentally-Friendly Particle Board with Laminate, Metal Hardware
Includes 4 Metal Casters, Locking
Model #: 417089
Assembly Required
About the Manufacturer: Sauder Woodworking Company